Republican Representative George Santos has been continuously embroiled in scandal since his election in November 2022.
The controversial congressman for New York's 3rd district has admitted embellishing his election campaign. He misled the electorate about his education, falsely claimed his grandparents "survived" the Holocaust, and wrongly suggested that his mother died during the 9/11 terrorist attacks. He has since apologised for this. Santos has said he has not committed any crimes and that he is sorry for misleading the public.
Despite the raft of accusations and constant news stories about Santos, Republican Kevin McCarthy, speaker of the US House of Representatives, is still showing support for Santos.
McCarthy said that he did not have the power to do so "simply because if I disagree with somebody or what they said". McCarthy added that his support for Santos to remain in office was "because his constituents voted for him".
McCarthy's position has reflected Santos' own statement that he would step down only if the 142,000 New Yorkers that elected him, voted him out. A recent poll indicated that 83% of registered voters in his district thought of him unfavourably. More worrying for Santos are the 78% of Republicans that think of him in the same manner.
McCarthy has said that if Santos was found to have broken campaign finance laws, then he would move to have him removed. He added, however, that "a person's innocent until proven guilty," suggesting that no action would be taken by leadership until the results of the investigation are known.
---

Speaker Kevin McCarthy: how backroom deals have put controversial Republicans into key roles


---
The speaker's reluctance is understandable. He is in a difficult position and has already seen a significant challenge to his leadership during the vote for the influential position, where he struggled to get the necessary votes. The refusal by some members of the Freedom Caucus to support McCarthy's bid for speaker undermined his control of House Republicans.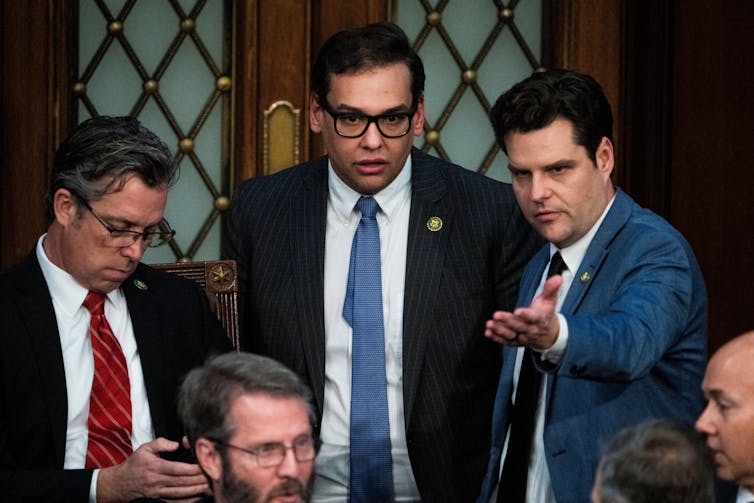 McCarthy may be keen to reward Santos for the loyalty he showed in January's speaker election. Santos voted in support of McCarthy during the fifteen rounds. By standing by Santos, McCarthy is showing all his supporters that he has their back too.
If McCarthy wants to achieve his objectives for this Congress, such as the recent removal of Muslim Democratic Representative Ilhan Omar from the House foreign affairs committee, then he will need the support of all House Republicans, including Santos.
Santos pushes back
Santos has tried to distance himself from the scandals after his appointment to the committees on small business and science, space, and technology led to criticism. Santos told fellow Republicans that he would withdraw from the committees.
In doing so, Santos said that he could "focus on serving the constituents of New York's third congressional district and providing federal level representation without distraction".
What is more likely is that Santos jumped before he was pushed. Democrats on the bipartisan House ethics committee have managed to launch an investigation into the claims concerning his campaign finance irregularities. This had put pressure on the chairs of both committees to support Santos' membership.
A statement from Santos' office stated that he had not resigned from the committees, but had recused himself until he had been cleared of any allegations by the ethics committee investigation. As a result, his place on the committees "will be reserved until the congressman has been cleared of both campaign and personal financial investigations".
Texas Representative Roger Williams, who chairs the small business committee, called the move sensible and that the committee's attention could turn to the job at hand. "It's about our committee and we have so much to do," he said.
Democrats, including fellow New York Representative Ritchie Torres, have called for Santos to be stripped of his office. Torres called for an investigation into Santos' time at a Florida-based investment company. Santos failure to register as a broker was, Torres said, "a clear violation of federal securities law".
But removing Santos from Congress is not straightforward. It would require the whole of the House to vote and for a two-thirds majority to support his expulsion. For this to happen, a considerable number of Republicans would need to vote against him.
Predictably, Congress is split along partisan lines, although not cleanly so. Some Republicans have joined Democrat calls for Santos to resign. Mike Lawler, another New York Republican Representative, said that it was clear that Santos had "lost the confidence and support of his party, his constituents, and his colleagues".
Implications of lost seat
There would be no guarantee that a Republican would win the vacant seat if Santos was removed. Perhaps surprisingly, during the November midterms, the Republicans over-performed in New York, and Santos managed to flip a previously Democrat-held seat.
If Santos was removed and the resulting special election went to the Democrats, it would mean a Republican majority of just six seats in the House, so they would only have to lose three votes before needing the support of Democrats to get any legislation passed.
History is on Santos' side. Only two members of the House have been expelled by their colleagues since the end of the US Civil War. In 1980, Michael J. Myers was expelled after being caught on camera accepting a $50,000 bribe (£40,000) from undercover FBI agents. More recently, James A. Traficant was expelled in 2002 after being convicted of ten felony counts including bribery, racketeering and tax evasion.
It seems unlikely that Santos will be expelled from Congress. It is more likely that the House will censure Santos – give him an official reprimand – over the embellishment of his CV.
Again, history suggests that this would not be the end of his career. Only two members of the House have been censured by the House this century, Charles B. Rangel and Paul Gosar, and both managed to not only remain in office, but were re-elected to the next Congress.
Any action taken by McCarthy is likely to hinge on the ethics committee investigation, but the extent of the punishment could be tempered by the razor-thin Republican majority in the House, and McCarthy's own position as speaker. Such punishment would not indicate the end of Santos' congressional career, but probably the final judgement will be made by the citizens of New York's 3rd congressional district in the 2024 election.