The UK government has announced an extra £1 billion of funding to support 800 new ambulances, 100 specialist mental health vehicles and 5,000 more sustainable hospital beds. This sum has been ringfenced for 2023-24 to provide extra capacity and support for staff in the urgent and emergency services. Rishi Sunak's plan also includes £1.6 billion, to be provided up to 2025, for adult social care, and £150 million for building 150 new facilities to support mental health care.
This two-year plan comes in response to emergency healthcare in Britain being labelled a "national emergency". A recent parliamentary report investigating access to emergency services has highlighted the lack of alternatives for emergency 999 calls and broken models of primary and community care.
Recent statistics show that in January 2023, on average 72% of patients attending A&E were either admitted, transferred or discharged within four hours. This represents a significant drop from the 95% standard, which was last met in July 2015. The average waiting time for category 2 ambulance calls, meanwhile, is over an hour and a half (93 minutes), against a target of 18 minutes.
The government's plan seeks to improve the four-hour A&E wait performance, bringing it up to 76% of patients by March 2024. It aims to achieve ambulance waiting times of 30 minutes, on average, for category 2 situations over the next year. And it prioritises finding healthcare solutions in the community to free up hospital beds.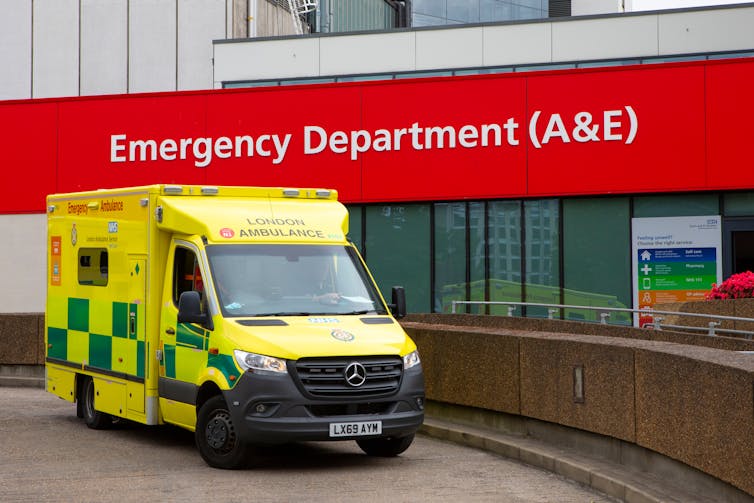 Research has long shown, though, that the problems facing the NHS – the extent to which it is "broken" – are far greater. Issues around safety, staffing levels and quality of service over the last months have seen the service compared to a "war zone". An extra £2.6 billion in funding will not be enough to fix the problem.
Workforce in crisis
The latest figures show that the UK has fewer GPs and nurses than most of its OECD counterparts.
Across the NHS, between July and September 2022, there were about 133,000 vacancies for full-time staff. An estimated average of 17,000 nursing posts remain unfilled on any given day. In the year to June 2022, one in nine nurses left active service in England; the turnover rate hit 11.5%.
These nursing shortages are resulting in massive pressure on the frontline staff. A January 2023 article in the Times quoted the director of the Royal College of Nursing, Patricia Marquis, as saying that what she called "corridor care" now appears to be commonplace:
Some nurses are being booked to work in hospital corridors, others are being asked to buy Ikea hooks so intravenous drips can be attached to the corridor wall, and some patients are having cardiac arrests because of mistakes made using cumbersome oxygen cylinders to treat them.
Among paramedics, more are now leaving than are joining, with over one in four saying they would leave if they could. In the 2021 NHS Staff Survey, only 20% of ambulance staff said there were enough staff in their organisation for them to do their job properly, compared with 30% in the 2019 survey.
Ambulance staff sickness and absences rates are among the highest within the NHS. They have increased from 5% in March 2019 to 9% in March 2022.
And in social care, the numbers are no better. Almost half a million adults were waiting for council care services in England in the latter half of 2022, amid a record 165,000 unfilled care jobs.
For the government's plan to work, it must increase the size and flexibility of the NHS workforce to bring any meaningful improvement in A&E and ambulance waiting times. This means supporting, protecting and retaining staff. However, it remains unclear how the government's plan will address the acute staff shortages alone.
Wider organisational crisis
Beyond the staffing crisis, the NHS faces other critical systemic issues. The pandemic has exacerbated problems in accessing GP services, which has seen more patients attending A&E and calling for ambulances – thereby diminishing these services' capacity to deal with more serious calls.
Further, there is considerable variation in how different trusts deliver healthcare, as well as a lack of standard procedures for how they purchase the products, supplies, equipment and services required to do so.
This both increases costs and reduces productivity. The ten ambulance trusts in England, for example, have been shown to be using 32 types of double-crewed ambulances, and no standard list of what they are to carry on board.
Elsewhere, across the ambulance trusts, non-conveyance rates (when a 999 call does not result in a patient being taken to a healthcare facility) vary hugely, between 40% and 68%. This can have significant consequences for patient safety and patient choice, not to mention the cost of additional journeys to A&E and fears of litigation brought against staff by members of the public if adverse events occur.
Poor working conditions are adversely affecting staff morale. Ambulance staff report frustration at their inability to respond to 999 calls – and serve patients effectively – due to wider NHS and A&E pressures, over which they have little control. Staff are increasingly demoralised, staff sickness absences are growing, and support for their wellbeing varies significantly across trusts.
With reports of more planned ambulance strikes, things are likely to get worse unless the pay dispute is resolved. However, the timing of the introduction of the transport strikes (minimum service levels) bill creates doubts about the government's willingness to negotiate. Some political commentators have suggested it could lead to a "spring of continuing misery".
Current strikes within healthcare have been agreed with minimum staffing levels for "life and limb cover" assured. It is, however, interesting to consider that minimum levels of service are not protected under any law on non-strike days.
No easy fixes
The problems the NHS faces have been years in the making. They stem from poor decision-making and a lack of political consensus between the two main parties, as well as what some critics have termed an emotional attachment on the part of some politicians to a free NHS.
Most crucially, the service has faced critical underinvestment.
Recent analysis suggests that while the recent budget increases are necessary, systemic challenges (particularly around workforce pressures) are likely to continue, including uncertainty about post-pandemic recovery.
This underinvestment has led to serious infrastructural issues. Hospital roofs are collapsing, with NHS England reportedly admitting that "30 buildings at 20 different hospitals run by 18 individual NHS trusts" have at least one roof built with a type of cheap concrete that has been labelled "a ticking timebomb". There have also been reports of alarming sewage leaks – 456 in 2022 – on to wards and A&E departments
Elsewhere, the emergency response 111 and 999 call triage systems have been shown to be risk-averse tools, which often default to sending more patients to hospitals and making more ambulance calls than needed. This only adds to the load on an already overloaded workforce.
Digital transformation to increase the range of tools and services is an important NHS priority. However, new calls for a technological revolution are frustrated by a history of abandoned IT systems costing more than £10 billion. This is in addition to challenges posed by the built infrastructure and workforce training needed to make such a transformation happen.
The centralised model on which the NHS is built is not fit for purpose in 2023. Devolved healthcare, wherein individual trusts have greater autonomy and flexibility, would serve the nation better.
Real progress will depend upon staff availability in the community and genuine efforts to reform and integrate health and social care – reforms which have been formulated, but not implemented.
Instead, the current system is complex and fragmented, with individual component institutions having competing proprieties and a protectionist approach to budgeting. Ultimately, without consensus between the two main political parties, this cannot be solved. Without answers, £2.6 billion will not be enough.