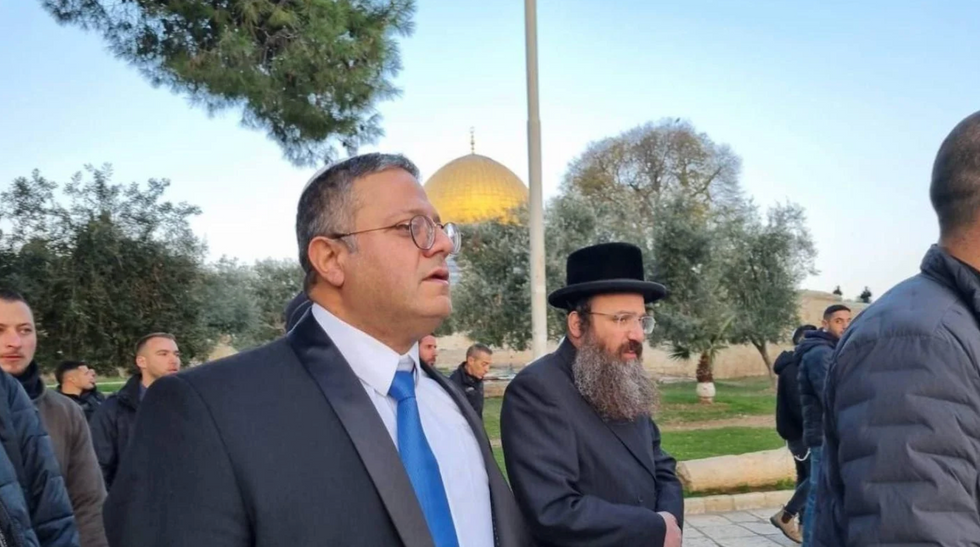 Palestinians reacted with fury on Tuesday after far-right Israeli National Security Minister Itamar Ben-Gvir entered the Al-Aqsa mosque compound in occupied East Jerusalem, a move seen as a deliberate provocation by an official with a long history of extremism and racist incitement.
In a statement, the Palestinian Foreign Ministry called Ben-Gvir's "storming" of Al-Aqsa—Islam's third-holiest site—an "unprecedented provocation and a dangerous escalation of the conflict."
Despite vocal warnings from Palestinians as well as
Israeli opposition leader Yair Lapid, Ben-Gvir—a top member of Israeli Prime Minister Benjamin Netanyahu's newly formed extremist government—visited the site for roughly 15 minutes Tuesday morning under heavy security, declaring that "our government will not surrender to the threats of Hamas."
In response, Hamas spokesperson Hazem Qassem toldAl Jazeera that Ben-Gvir's move represents "a continuation of the Zionist occupation's aggression against our sanctities and its war on its Arab identity."
The outlet noted that "Ben-Gvir has long called for greater Jewish access to the holy site, which is viewed by Palestinians as provocative and as a potential precursor to Israel taking complete control over the compound."
"Leading rabbis forbid Jews from praying on the site," Al Jazeera added. "Former Israeli Prime Minister Ariel Sharon's entrance to the site in 2000 sparked the second Palestinian Intifada or uprising."
Middle East Eyeobserved that "since Israel occupied the site following the 1967 Middle East war, Jewish prayer at the site has been forbidden, though far-right settlers such as Ben-Gvir (some of whom want to demolish Al-Aqsa and replace it with a third Jewish temple) have frequently prayed there under strict security in recent years."
Israeli forces have repeatedly launched attacks on Palestinian worshipers at the compound in recent years. In 2021, Israeli forces' violent raids at Al-Aqsa and Hamas' response spurred a deadly 11-day Israeli assault on the occupied Gaza Strip.
Zvika Fogel, a far-right Israeli Knesset member, told an Israeli news outlet that if Hamas responds to Ben-Gvir's move with rocket fire, "If it's up to me, Gaza burns."
Officials from Jordan and the United Arab Emirates joined Palestinians in condemning Ben-Gvir's decision to enter the Al-Aqsa compound.
"Jordan condemns in the severest of terms the storming of the Aqsa mosque and violating its sanctity," the Jordanian Foreign Ministry said in a statement.
Netanyahu reportedly postponed a trip to the UAE that was planned for next week following Ben-Gvir's appearance at the Al-Aqsa compound on Tuesday.
"This is not the first time that Ben-Gvir has stormed Al-Aqsa," Middle East Eyereported. "In May last year, accompanied by his wife and son, Ben-Gvir posted a picture calling for the destruction of the site to 'establish a synagogue on the mountain.'"
Edward Ahmed Mitchell, executive director of the Council on American-Islamic Relations (CAIR), called on the Biden administration to "strongly condemn the Netanyahu government's attempts to incite racial and religious conflict at one of the most sacred and sensitive places in the world."
"Netanyahu's national security minister, Itamar Ben-Gvir, is a far-right extremist, a genocidal racist, and a terrorist sympathizer," Mitchell said in a statement Tuesday.
WorldNewsIntel