Prince Harry's long-awaited memoir Spare has been published. There's much to discover in the memoir as a whole, though its key "events" were revealed in the leaked copies that appeared in Spanish bookstores prior to the January 10 official publishing date.
---
Review: Spare – Prince Harry, The Duke of Sussex (Penguin Random House)
---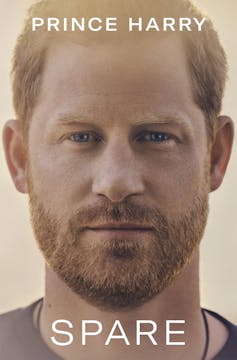 One of those "events" was Harry's candid discussion with the late queen about his inability to get his father to understand that his and Meghan's problems with the press are not the same as the way previous royal "wives" have been objectified and maligned.
At the heart of the Meghan coverage, he tells the queen, have been distinct overtones of racism and misogyny. The queen, on learning more details about commentary on social media and in the hate mail the Sussexes are receiving, says she is "appalled".
Harry's thoughts about Camilla marrying Charles (good that you've met the woman you love, Pa, but don't marry her, Harry begged) were also an early leak from the book.
Many of the leaks focused on specific incidents, but the memoir, when read as a whole, does offer some more context for the events and dramas – context that Harry has been asking for in his interviews with Colbert and America's 60 Minutes.
Harry's memoir, ably shaped by ghost writer J. R. Moehringer, his "collaborator and friend, confessor and sometimes sparring partner", tells a story of a troubled young man, traumatised by the death of his mother when he was just 12.
He paints a portrait of a man now closer to his 40s, who remains traumatised, angry and anxious — despite assuring us repeatedly he's in the happiest place he's ever been — about the residue of his life as the royal "spare" to William's "heir". A life where he was harassed and haunted by the British press, whom he believes killed his mother.
---

What Prince Harry's memoir Spare tells us about 'complicated grief' and the long-term impact of losing a mother so young


---
Hunting and being hunted
Themes of hunting, fighting and death pervade the narrative.
At a young age (probably around 11 or 12) Harry makes his first kill: a rabbit, whose blood the "nanny" Tiggy smears on the young prince's face in his first act of being "blooded".
Later, at Balmoral, he stalks and kills a deer and his guide then shoves Harry's face inside the carcass, where his mouth is filled with blood and guts; while wiping away the deer's entrails from his face he's told to "Let it dry, lad! Let it dry!" Harry's "blood facial" was, Harry insists, "baptismal".
Fleet Street continues the "blooding". A soon-to-be infamous Fleet Street editor whom he refers to as Rehabber Kooks (yes, it's an anagram) sets her sights on Harry, bombarding him with paparazzi coverage and untrue press reports. "She was hunting the Spare, straight out, and making no apologies for it." The publication "Kooks" had edited, News of the World, was found to have hacked Harry's phone (after she had left).
While flying an Apache helicopter in Afghanistan, Harry killed 25 members of the Taliban, an admission that has since attracted criticism from some members of the military in the UK. Harry is keen, however, to contextualise his war experience in terms of his military training. He's not, he insists, bragging about the number of people he's killed; rather, he wants to ponder and understand his role in war.
Reflecting on one skirmish, a fellow soldier asks Harry,
Did you factor into your feeling that these killers were on motorbikes? The chosen vehicle of paps all over the world? [Harry reflects:] Could I honestly say that, while chasing a pack of motorbikes, not one particle of me was thinking of the pack of motorbikes that chased one Mercedes into a Paris tunnel?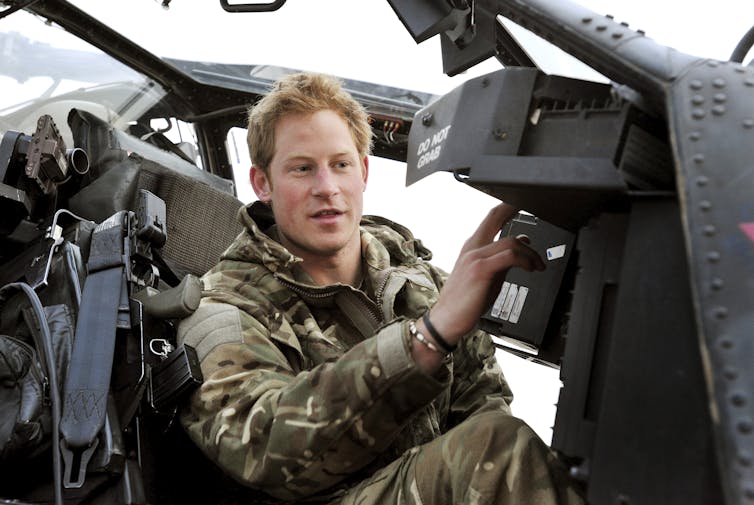 At different times during their 20s, and once together, Harry and William both recreated the drive through the Alma Tunnel by asking their drivers to drive at the same speed Diana's car was travelling on the night she died; neither can fathom how a driver could simply crash their car in this short, safely designed tunnel. Something, someone, the brothers believe, distracted the driver – and that "something" were the press on motorbikes.
There will be blood.
Even his asking the Queen's permission to marry Meghan takes place during a shoot at Sandringham:
I saw Granny [begin] looking for dead birds, while her dogs hunted […] I walked out to the middle of the stubble field […] began helping. While we scanned the ground for dead birds, I tried to engage her in some light chat to loosen her up.
Harry thinks to pet the hunting dogs, but realises he has "a dead bird in each hand, their limp necks nestled between my fingers, their glazed eyes rolled all the way back". Yes, the Queen says, I "suppose" you can marry Meghan.
The connection between the dead, hunted birds and his future wife's treatment down the barrel of the press's camera lenses seems lost on Harry: it's implied rather than stated in the text. I suspect it is Moehringer who picks up the hunter/hunted metaphor circulated at the time of Diana's death and places it at the core of Spare.
I found myself feeling concern for Harry and Meghan's rescue chickens housed at their Montecito property, given Harry's repeated references to his and Meghan's favourite meal of "roast chicken" and the wholesale slaughter of nearly all things with wings throughout this memoir.
Early in the book Harry describes his poor academic performance during his school years at Ludgrove and Eton. He writes,
Study, concentration, requires an alliance with the mind, and in my teen years I was waging all-out war with mine. I was forever fending off its darkest thoughts, its basest fears — its fondest memories […] I'd found strategies for doing this […] For instance, when I was forced to sit quietly with a book — I freaked out […] At all costs, I avoided sitting quietly with a book.
Harry then pours out his heart and soul to Moehringer, and we're left sitting quietly with a book, watching a person rake over his darkest thoughts and basest fears, about the press, the House of Windsor, the press. And just in case we missed it, the media and the press.
And the press.
---

Prince Harry says his military kills were like chess pieces – the problem of seeing war as a game


---
Who 'gets' Africa?
Life in Britain in the royal goldfish bowl is torture; calm and harmony are found in frequent visits to Botswana. The only time there is any disharmony about Africa is over his and William's arguments about who "gets" Africa.
"Africa and Invictus, these had long been the causes closest to my heart", writes Harry – but William insisted that "Africa was his thing". Why, friends ask them, "can't you both work on Africa?"
Willy had a fit […] Because rhinos, elephants, that's mine! … I let you have veterans, why can't you let me have African elephants and rhinos?
Continents, like endangered creatures, wounded veterans and children with AIDS, are commodities to be fought over in the high-stakes battle to retain public prominence and high moral ground.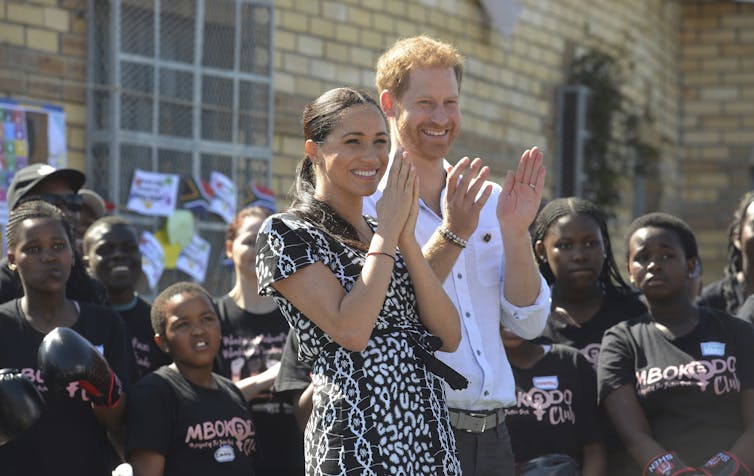 Harry and William's mother, too, is a source of competition for the brothers; William may have inherited his mother's looks (which Harry at one point notes are fading with age), but Harry is the self-appointed keeper of her soul.
He thinks and behaves like her; he feels her presence on more than one occasion. During a visit to their mother's grave at Althorp, Harry and William seem to clash about who's feeling Diana's presence and guidance the most.
Mummy's mine!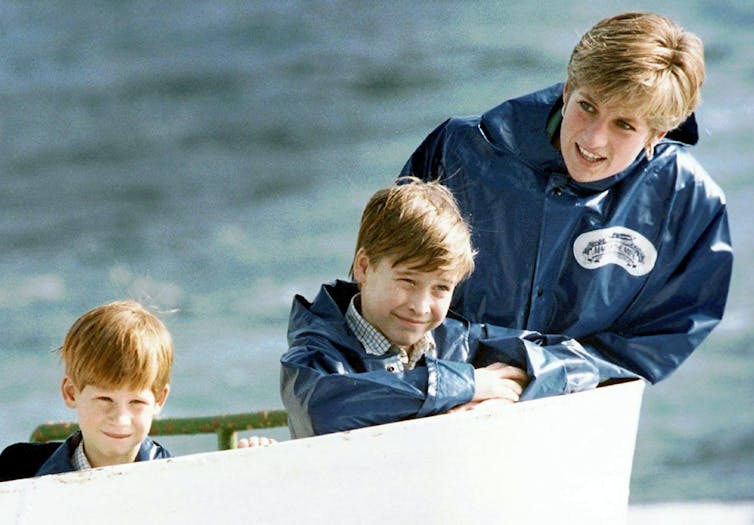 Leading up to Harry and Meghan's wedding in 2018, there's a series of fracas. Beard-gate (William is furious that Harry is allowed to keep his beard for the wedding despite marrying in military uniform: beards are forbidden in the British army, and Harry writes that his brother "ordered" him to shave it off). Tiara-gate (the Queen's dresser Angela Kelly is obstructive and does not allow Meghan access to her chosen tiara when Meghan needs it for fittings).
There's Thomas Markle-gate (Meghan's dad enters into deals with the paps, has a heart attack and then doesn't come to the wedding). And Bridesmaids'-dresses-gate (Meghan and Kate argue, and cry, and the press fails to mention that Kate made Meghan cry first, or perhaps it was Meghan who made Kate cry first, or something).
Kate's knuckles turn white in an exchange with Meghan when the Duchess of Sussex refers to Kate's suffering from "baby brain" at the time of Meghan's and Harry's wedding. A frosty Kate reminds her sister-in-law that she does not know her well enough to discuss her hormones. William points his finger at Meghan and tells her she's rude.
On another occasion, during a heated argument, William ("Willy") shouts and knocks Harry into a dog bowl. Meghan tries to hug everyone, including Prince Charles, and the royals recoil from such Californian informality.
And the press are really, really nasty.
Really.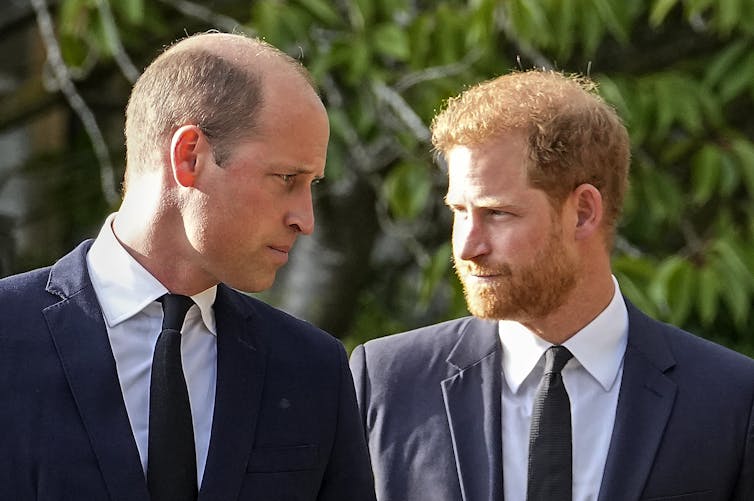 ---

Charles has been proclaimed king. But who is Charles the man?


---
Making use of his discontent
Quoting a line by the character Conrade in Shakespeare's Much Ado About Nothing, whom Harry played in his final term at Eton, Harry writes: "Can you make no use of your discontent?" Harry applies Conrade's advice to his own life narrative.
Spare offers 407 pages of him airing his discontent in the name of, he says, speaking truth to power about the corrupt relationship between the palace and the press.
The book's ghost writer – a Pulitzer prize-winning journalist and author of his own memoir – pulls his weight, giving Harry's commentary a writerly polish. Harry, who claims in the memoir to have never read a book in his life, becomes surprisingly adept with figurative language.
An outback Australian homestead door gives "out a kittenish squeak every time you pulled it open and a loud bang every time you let it fly shut". The paparazzi are likened to terrorists:
You could see it in the [paps'] eyes, their body language. They were more emboldened, more radicalized, just as young men in Iraq had been radicalised. Their mullah's were editors, the same ones who'd vowed to do better after Mummy died.
He warns Meghan early in their relationship, "We're going to be hunted. No two ways about it".
But the press was ruthless in its sexist and racist reporting of Meghan, making Harry "wild with rage. And guilt", and furious that his royal fame had in turn "infected Meg […] with my contagion". Images abound of toxicity, disease, "genetic pain and suffering", a royal institution with blood on its hands for its collusion with the press, and for its failure to protect Harry and his family.
His father's response to Harry's trauma is "don't read [the press coverage], darling boy". Ignore it. Instead, Harry pores over the tabloid coverage of his life and commentary on social media and rails against being portrayed as the "naughty" one, the "stupid" one. For being, in short, not William.
One suspects that William, Kate, Camilla and Charles will all heed Charles's advice to not read popular accounts about the royals' lives such as Spare. Yet, while they will pretend to ignore Spare, I suspect their advisors and private secretaries will parse every line.
Harry and Meghan may well be off the Christmas card list this year and William may be feeling tempted to release a memoir of his own. (I proffer the suggestion that the title of William's memoir be titled "Roiling", pun intended.)
By page 310, Harry's therapist finally tells him what readers of Spare have already started to suspect by page 26: "Harry, I […] fear that part of you is trapped in 1997 […] there's the truth".
"Paps here, paps there, paps everywhere. Groundhog Day." Ostensibly a comment by Harry about his life during his 20s and 30s, but one that could just as easily be about the reader's experience of trawling through Spare.