Russia's war in Ukraine has quickly refocused the politics of its Baltic neighbours. Renewed threats to national security have swiftly risen to the top of each nation's priorities.
In autumn 2022, Estonia like other Baltic countries, restricted travel over its land borders from Russia. Flights were already banned from Russia as part of an EU-wide decision. St Petersburg is only 229 miles away from Estonia's capital Tallinn, and Estonians are all too aware of their recent history with Russia including being conquered by the Russian empire from 1710 and forced to become part of the Soviet Union in the 20th century. It shares memories of Russification and suppression of its language with Ukraine.
Occupied by the Soviet Union until 1991 and sharing a 294km border with Russia, defence and security have risen up the agenda in the Estonian media and politics in the past 12 months. But it's not surprising with a militarised Russia on its doorstep the Ukraine war is focusing minds in the election of the country's next parliament. Estonia is providing more military aid as a share of GDP than any other Nato country. Polls close on March 5 2023. National defence, crisis readiness and energy independence are all being covered in the campaigns.
Tensions are clear. Russia expelled Estonia's ambassador Margus Laidre in January 2023 and Estonia responded by doing the same to the Russian ambassador Vladimir Lipajev. Just days before the election Estonia held a 105th anniversary parade of the Republic of Estonia in Tallinn's Freedom Square. The highly symbolic event also featured military equipment and representation from Estonia's Nato allies and a speech from Nato secretary general Jens Stoltenberg, who evoked Estonia's fight for freedom and the Ukrainian battle with Russia today. He said: "Your history is a strong reminder that we cannot take our freedom for granted."
The first televised debate of this election produced by the Estonian Public Broadcasting Service focused, not surprisingly given the international situation, on defence.
Estonia's political parties seem to widely agree on security and defence policies. A cross-party consensus is committed to increasing national defence spending, with most parties pledging to bring defence spending to a minimum of 3% GDP. The radical right populist Estonian Conservative People's party (EKRE) is, however, critical of the current government's decision to give Ukraine weapons and ammunition, which it claimed had depleted Estonia's defences. And one prominent EKRE parliamentary candidate has called for a change of policy to establish better relations with Russia.
There is little disagreement over Estonia's continued Nato membership or a pledge to invest in national crisis infrastructure (such as bomb shelters and emergency sirens), issues that have not received much attention in previous election manifestos.
---

Ukraine war is blurring the lines between Nato and the EU on defence policy


---
Putin's war in Ukraine and the consequent energy crisis has also highlighted the importance of energy policy, and all parties directly link the issue to national defence. While there is broad agreement across parties about the need to ensure electric energy independence by 2030, the ways in which to reach that vary by party and ideology. The liberal and centre-left parties emphasise renewable energy sources as the primary route to energy independence in their manifestos and public debates, right-wing EKRE openly opposes the "mad green turn" and pledges to continue fossil fuels use until Estonia transitions to nuclear energy.
Kallas is leading the polls
Despite the widespread agreement on defence, electoral research suggests that parties can still compete on issues that they primarily agree on by emphasising their competence and ability to manage the issue. The latest polls suggest that current prime minister Kaja Kallas, and her Reform Party, lead this competence battle and are set to win the most votes in the election.
Kallas, the first female prime minister of Estonia, enjoys a healthy lead as the most popular potential leader. She is an avid and vocal supporter of Ukraine, and public satisfaction with Kallas and her government has increased rapidly following the start of Russia's full-scale armed offensive in Ukraine in February 2022.
Overall, her current support reflects an impressive turnaround as her popularity had dropped to all-time low of 16% in November 2021, when her government was perceived as indecisive in its handling of COVID-19 pandemic.
Kallas is regularly seen in leading western news outlets such as the New York Times, Der Spiegel, The Times. She now enjoys high approval ratings at home for her strong stance on Putin, effectively subverting common gender stereotypes of women being weak on national defence and security issues.
Nationalistic right-wing conservative parties including EKRE and Pro Patria are strongly emphasising their credentials in defending the Estonian language, culture and sustainability as a nation. Notably, EKRE avoids mentioning Ukraine or Ukrainian refugees in their manifesto, and instead emphasises the need to stop mass migration to Estonia.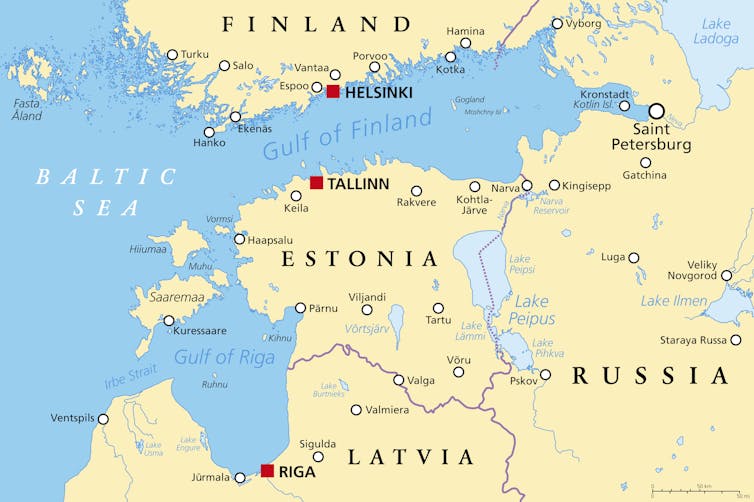 Pro Patria and EKRE, and the liberal right-wing Reform party also use the current security situation to highlight nationalistic credentials. These parties pledge to remove the right to vote in local elections for Russian citizens who are permanent residents in Estonia. The Centre party, which currently has the largest support among Russian-speaking voters, and left-liberal Estonian Social Democrats both pledge to respect local election voting rights for all permanent residents.
With a 23.7% ethnic Russian minority, Estonia currently provides early and general education both in Estonian and Russian, in schools separated by language. The Ukraine war has brought this policy further up the agenda with most parties now pledging to create a unified school system with all or most classes taught in Estonian, with the exception of the Centre party.
The looming presence of the Russian war in Ukraine has far-reaching implications for Estonia and its neighbours. The threats created by a nearby war have further strengthened its hardline attitude towards Russia as Estonia, the other Baltic countries and Poland see (and fear) more than most what could happen next. There's no question that this will stay at the top of the agenda for whoever takes over as prime minister.