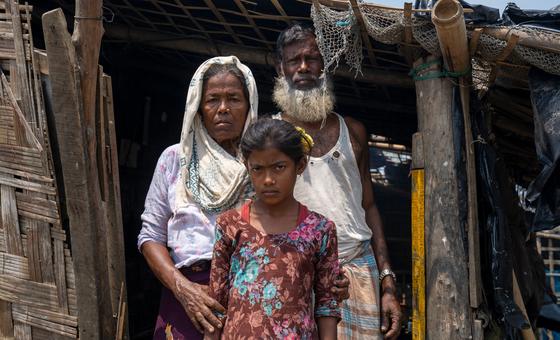 Tom Andrews, the UN Special Rapporteur on the situation of human rights in Myanmar, insisted that current conditions there were "anything but conducive" for the return of Rohingya refugees.
Death trap
He stressed that the very generals who had launched "genocidal" attacks against the Rohingya, causing hundreds of thousands to flee the country, were now in power and "attacking civilian populations while denying the Rohingya citizenship and other basic rights".
According to Mr. Andrews' statement, Bangladesh officials have been planning to send back to Myanmar, potentially very soon, an initial group of 1,140 Rohingya refugees, using a combination of threats and financial rewards.
Confined to 'designated area'
The returnees would reportedly pass through "transit" centres in Rakhine state before being resettled in a "designated area of 15 newly constructed villages" which they will "not be allowed to leave freely".
"The return of Rohingya refugees under these conditions would likely violate Bangladesh's obligations under international law and expose Rohingya to gross human rights violations and, potentially, future atrocity crimes," Mr. Andrews said.
In March, Bangladesh authorities facilitated two visits by Myanmar junta authorities to the Bangladesh camps, said the UN rights office OHCHR.
According to reports, at least some of the refugees were coerced into participating in so-called 'verification' interviews with junta officials. Bangladesh and the military regime's officials also coordinated a 'go see' visit to Rakhine State for some Rohingya refugees.
Bangladeshi officials said the refugees had expressed "general satisfaction" with the arrangements being made for their return, but these assurances were contradicted by reports that those who participated in the trip had unequivocally rejected the repatriation plans, OHCHR said.
"I implore Bangladesh to immediately suspend the repatriation pilot programme," Mr. Andrews said.
Stand with Rohingya
"I also urge the international community to stand with Rohingya refugees in both word and deed", he added.
"This must include reversing the failure to provide a humane level of support for Rohingya refugees in Bangladesh who are unable to pursue livelihoods, continue to face hunger and malnutrition, and whose children have very limited educational opportunities".
Tom Andrews and other independent human rights experts are appointed by the UN Human Rights Council, in Geneva, under its Special Procedures.
They are mandated to monitor and report on specific thematic issues or country situations. They are not UN staff and do not receive a salary for their work.