The National Education Union (NEU), the largest education union in Europe, has announced that its teacher members in England and Wales have overwhelmingly voted for strike action.
The NEU announcement follows the results of a ballot called by another teaching union, the NASUWT. Here, 90% of voting members supported strike action, but the turnout failed to meet the legal thresholds required for members to be able to take action. The National Association of Headteachers has also balloted its members for industrial action. In Scotland, teachers are already on strike.
In common with many other workers, teachers are taking industrial action because current rates of inflation are rapidly eroding the value of their pay. The government announced salary increases of between 5% and 8.9% for teachers in July 2022, but this does not match the current rate of inflation, running at around 10%.
What's more, current cuts in real terms pay for teachers follow on from multiple years of salary erosion. Analysis by the Institute of Fiscal Studies has found that senior teachers' salaries have fallen by 13% in real terms since 2010. This is because public sector pay awards have never recovered from the cuts that followed the 2008 economic crisis.
While teachers are set to strike over pay, the decision by teachers to take industrial action also reflects a much wider set of frustrations. The current demands for strike action have been many years in the making.
Working conditions and job satisfaction
The workload faced by teachers is one of these issues. In 2003, the government, employers and several education unions made an agreement to tackle workload issues. They aimed to ensure that teachers could maintain a work-life balance, would have adequate time to plan lessons and fewer administrative duties. In the 20 years since this agreement, though, the problem has worsened.
In 2013, a survey found that lower secondary teachers (teaching children aged between 11 and 14) were working for 48.2 hours a week. In 2018, this had gone up to 49.3 hours a week.
This research, conducted with teachers in 48 countries by the Organisation for Economic Co-operation and Development (OECD), found that in 2018 lower secondary teachers in England worked over eight hours more per week than the average. Across all the participating countries, primary teachers in England worked the second longest hours, with only teachers in Japan working longer.
In 2019, the European Commission also reported that teachers in England had the lowest levels of job satisfaction in the European Union.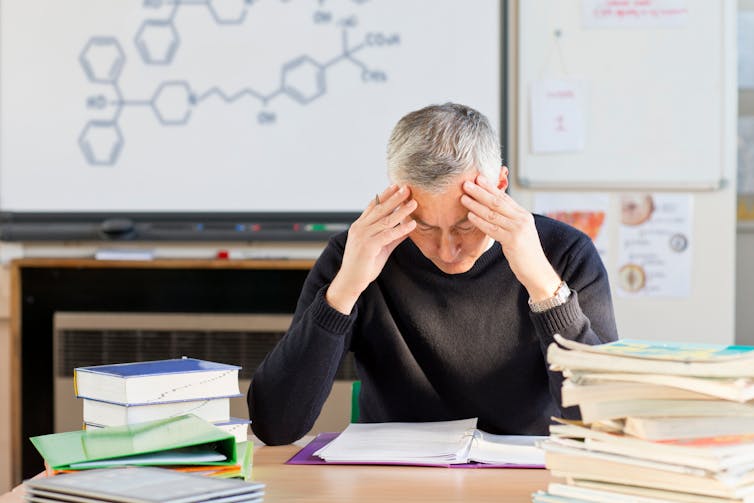 However, long working hours and declining pay are still only a part of the picture. Research shows that teachers suffer from both high work intensity (the effort expended within working hours) and low task discretion (the freedom to make professional judgements about their own work). Teachers' experience in these regards has deteriorated considerably over time.
Political significance
Perhaps the real significance of the impending strikes in English schools is their demonstration of the enduring power of the teacher unions – despite government efforts to curtail their influence.
The 1988 Education Reform Act, introduced by Margaret Thatcher's government, included measures intended to limit the influence of teaching unions. For instance, schools were no longer run financially by local authorities, but instead were established as autonomous business units. This intentionally fragmented the system and made union organising more difficult.
---

UK strikes: how Margaret Thatcher and other leaders cut trade union powers over centuries


---
Since then, conflict between the government and the teacher unions has continued. In 2009, the future prime minister David Cameron announced he was prepared for "battles" with the "education establishment" over Conservative Party education reforms. In 2012, The Times reported that education secretary Michael Gove had put the Department of Education on a "war footing" in preparation for a confrontation with teacher unions.
Despite all these efforts to marginalise the unions, the impending industrial action shows that teacher unions still hold considerable power. It is arguably not surprising that teachers are going on strike – only that it has taken this long to get to this point.