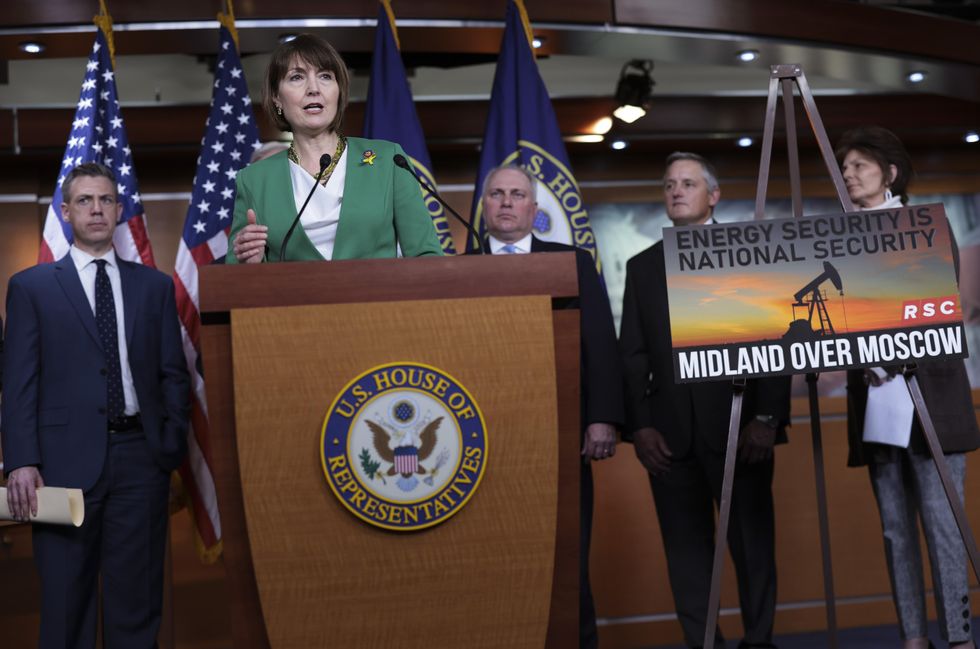 Climate watchdogs warned Monday that a bill House Republicans are expected to vote on this week is a thinly veiled effort to open more public lands and waters to planet-wrecking oil and gas drilling.
The
Strategic Production Response Act, led by new House Energy and Commerce Committee chair Rep. Cathy McMorris Rodgers (R-Wash.), aims to curtail presidential authority to release oil from the United States' strategic reserve—something President Joe Biden did on a major scale last year in an attempt to curb gas prices.
But Joshua Axelrod, a senior advocate at the Natural Resources Defense Council (NRDC) who focuses on public lands, noted in a
blog post Monday that "despite its title, the bill neither responds to any existing problem nor advances any coherent or achievable energy policy."
"Under the guise of limiting the use of the Strategic Petroleum Reserve (SPR), the Strategic Production Response Act appears, in fact, to be focused on establishing a federal oil and gas leasing mandate that eclipses all past efforts to hand over public lands and offshore areas to oil and gas companies," Axelrod wrote. "How? Under the proposed language, no non-emergency drawdown of the SPR can take place without the development of a plan from the Secretary of Energy and other relevant agency heads to 'lease for oil and gas production… [on lands and waters] by the same percentage' as the planned SPR drawdowns (up to 10%)."
"Put more clearly: If 1% of the SPR is to be drawn down, a plan to lease 1% of available public lands or offshore areas must first be developed," Axelrod added, cautioning that—if passed—the measure would "lock in another century of oil and gas."
In a
letter to the House Energy and Commerce Committee last week, Energy Secretary Jennifer Granholm expressed strong opposition to Rodgers' bill, arguing it would cause "more oil supply shortages in times of crisis and higher gasoline prices for Americans."
Jordan Schreiber, the director of energy and environment at the progressive watchdog group Accountable.US, echoed that warning in a statement Monday.
"McCarthy and his MAGA majority are making it clear right out of the gate—they'd rather play politics than provide much-needed relief for American consumers," said Schreiber. "This bill hamstrings the executive branch, taking away a critical tool in combating rampant price gouging at the pump while making it easier to give our public lands away to the very companies responsible for artificially high prices. Instead of holding accountable Big Oil CEOs for causing last year's record-setting gas prices, the new majority is hellbent on making political statements as American families suffer."
Accountable.US also released an analysis countering Republican claims that have been used to justify the Strategic Production Response Act.
The Biden Interior Department has itself come under fire from environmentalists for auctioning off huge swaths of public lands and waters for oil and gas extraction despite the president's campaign vow to put an end to such drilling. Recent research shows that drilling on public lands and waters has been responsible for roughly a quarter of all U.S. greenhouse gas pollution since 2005.
In 2021, the Biden administration approved more onshore oil and gas drilling permits per month than the Trump administration did during its first three years in power.
Nonetheless, Republicans awash in Big Oil campaign cash have repeatedly accused the Biden administration of being insufficiently aggressive when it comes to turning federal lands and waters over to the profit-soaked fossil fuel industry.
Rodgers, who received $218,367 from individuals and PACs associated with the oil and gas industry during the last election cycle, said in a floor speech earlier this month that "it's time to cut the red tape and expand energy production here at home."
In recent days, branches of the Koch-funded group Americans for Prosperity have been boosting Rodgers' legislation on Twitter, urging the GOP-controlled House to pass it.
With Democrats narrowly controlling the Senate, the bill—one of several Big Oil-friendly measures Republicans are planning to advance in the coming months—is unlikely to make it to Biden's desk.
Axelrod of NRDC argued it is "not hyperbole" to conclude that Rodgers' legislation proposes "a leasing plan so massive in scale it would eclipse all historic precedent and pave the way for federal oil and gas leasing well into the next century."
"The agencies implicated by this proposal have jurisdiction over 3.1 billion acres of onshore and offshore areas, suggesting that the 10% limit on acreage that could be leased translates into 314 million acres. That's more than eight times as many acres currently under lease," Axelrod wrote.
"This attempted public lands and waters giveaway comes as we are inundated daily with news of the escalating effects of the climate crisis on the United States," he added. "The incoming House majority appears to view those hardships and the enormous costs they impose on the U.S. economy as mere inconveniences to their laser-focused drive to prop up an oil and gas industry that not only recorded record-breaking profits in 2022, but also, is about to achieve record-breaking domestic production."