Alexander McQueen: Mind, Mythos, Muse was first conceived at the Los Angeles County Museum of Art.
That museum, like many around the world, is being completely redeveloped to embrace not just spectacular new buildings, but new attitudes towards museum collections.
Gone are the boundaries between materials, forms, cultures, nationalities and hierarchies of the arts. No more gallery of, say, "18th century North American silver" or "Medieval and Renaissance art in the European North". Instead, arts from varied times, places and hierarchies all sit together.
An exhibition of the work of Alexander McQueen (1968-2010) was an interesting response to this challenge of a new museum, which also highlighted the relatively late arrival of fashion as a category worthy of study in the global museum.
It paired garments by McQueen – many specially donated by one woman collector – with the rich Los Angeles County Museum of Art collections in order to suggest the ways in which McQueen had generated his ideas.
Now the exhibition has come to the National Gallery of Victoria, with most of the McQueens on display here donated by Melbourne fashion philanthropist Krystyna Campbell Pretty.
---

The gothic vision at the heart of Alexander McQueen's savage beauty


---
Flourishing postmodernism
This new show is extensive. We have 120 McQueen looks and 80 other works of art. Paintings and decorative arts star in this show, notably the spectacular Jean-Baptiste Greuze painting of a young French actress in Turkish-style dress, on loan from Los Angeles.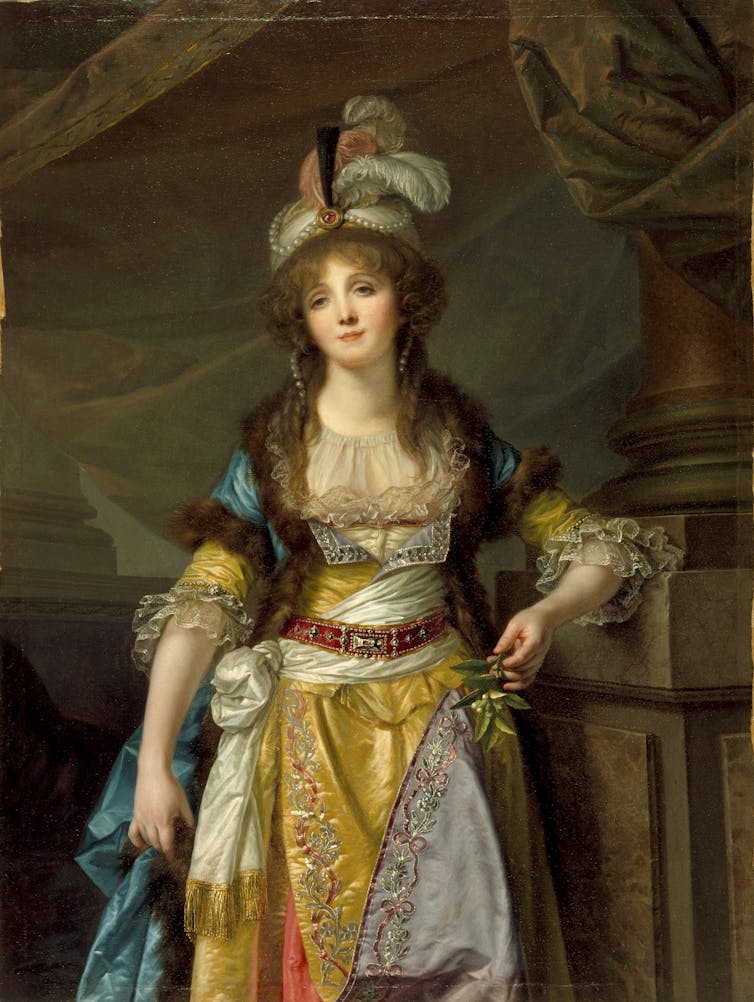 The visual pairings, which range from 18th century English porcelain figures to lavish Russian gold-woven cloths, drive much of the tempo.
Important loans from the Los Angeles County Museum of Art are joined by treasures from the NGV, including a spectacular Morris embroidered wall cloth and the Netherlandish flower paintings that contain within them the idea of memento mori – remember that you die.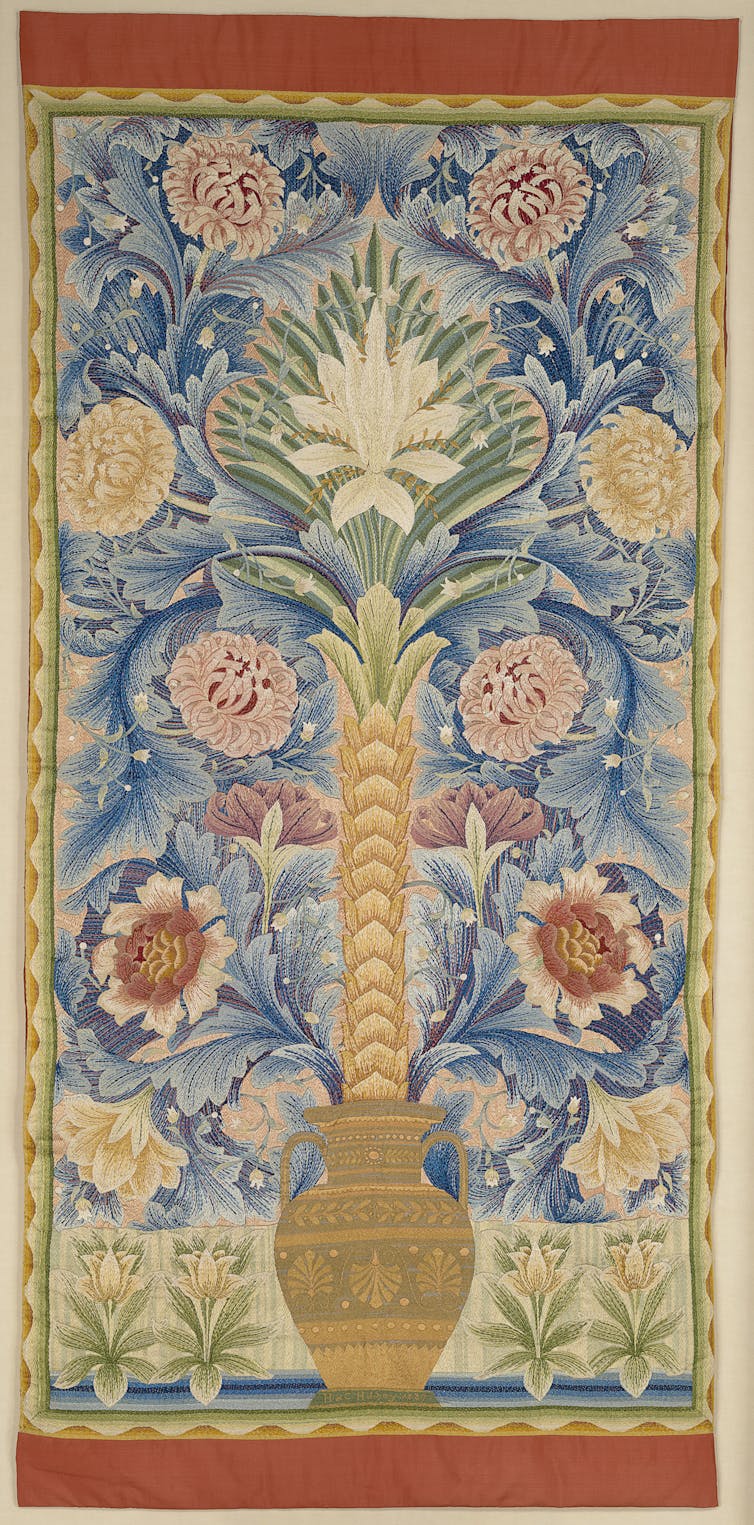 Lee Alexander McQueen was born in 1968, so he was young in the 1980s, absorbing all the flashes of art, design and culture in which postmodernism flourished.
Working-class, McQueen did not first go to art school as his middle-class counterparts might. Instead, he apprenticed in Savile Row, the epicentre of bespoke British tailoring, mastering the cut of jackets and trousers.
He became so technically proficient that when he applied to tutor technique at art school he was invited to enrol in a Masters.
And so the celebrated – and often controversial – McQueen high fashion design was born.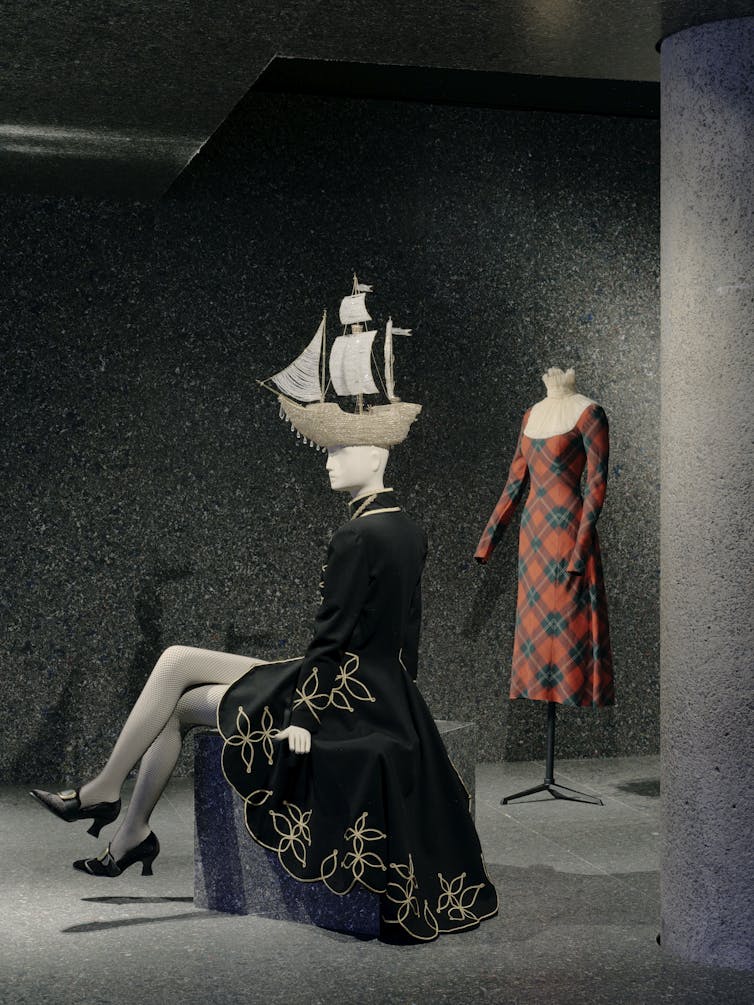 An immersive experience
As well as new ways of dressing for women, McQueen gave us new ways of representing fashion: high concept runways, fashion films, live screenings and putting Paralympian Aimee Mullins on the runway, generating new modes of beauty.
At the NGV we have a fully immersive experience and bold scenography.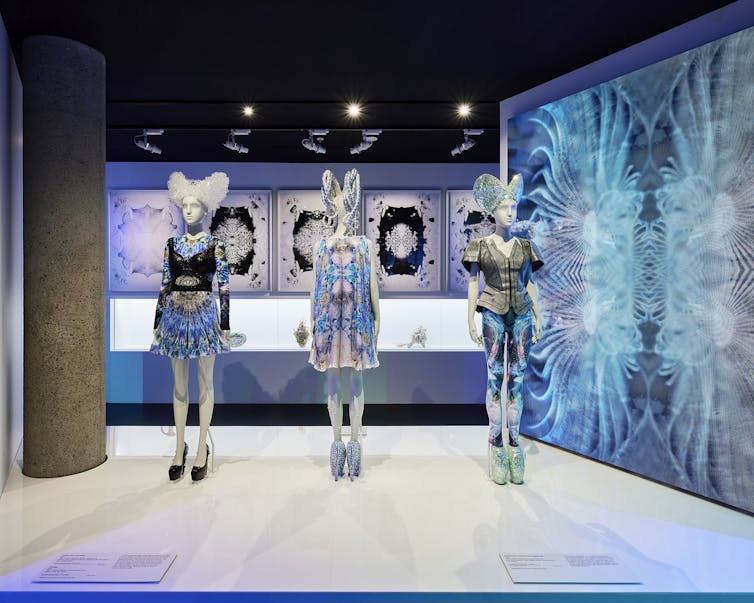 "Mythos" examines three collections through the filter of mythology and theology. McQueen loved to make the present strange by incorporating elements from religious practice, even prejudice, from the past.
Everything from angels to demons, from witch burning to Catholic rites might be incorporated for design, fabrication or the runway.
These go past simply being artistic source material to generate new ways of looking and appearing for women. "I want people to be afraid of the women I dress," he said.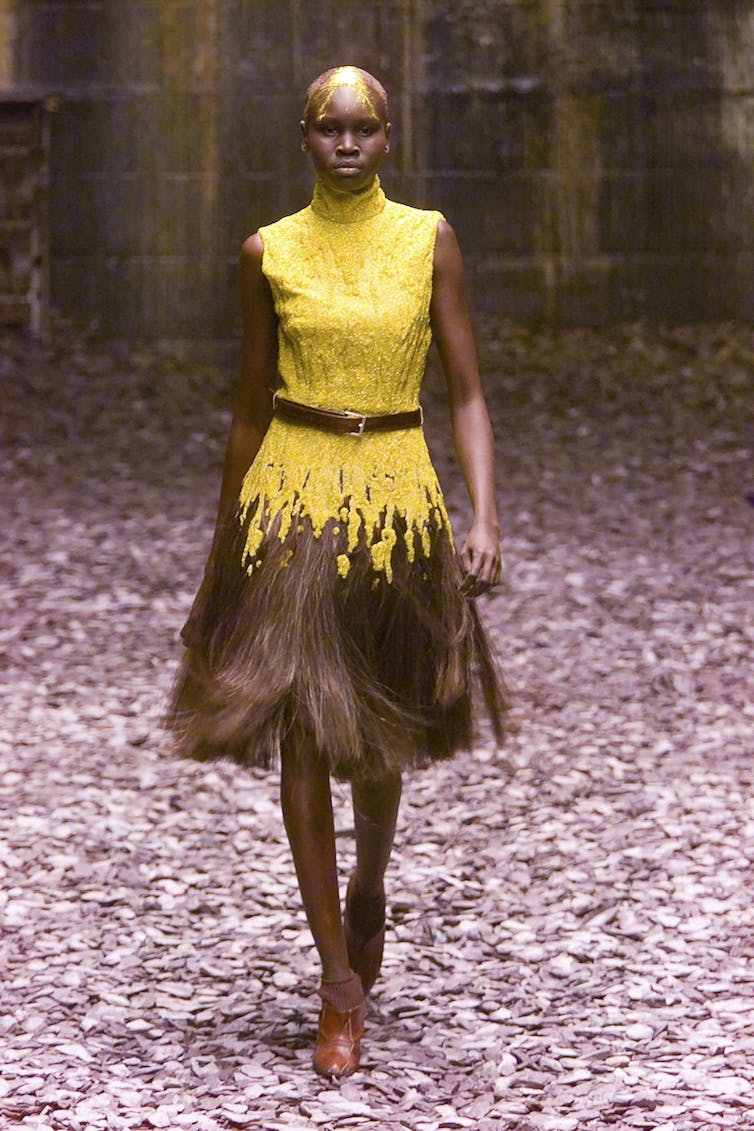 This exhibition celebrates McQueen's technical bravura across both tailoring and soft dressmaking, two categories of making clothes that were often conducted separate from the other in the west.
Intimate backstage photographs are shown, indicating how the clothes were really worn by models and friends. Here the "muse" is no longer a house model or elegant confidant, but rather a whole set of cultural reflections.
The third and final section is called "Fashion Narratives". Here we see a visual imagination ranging across Siberia, Tibet and other exotic locales.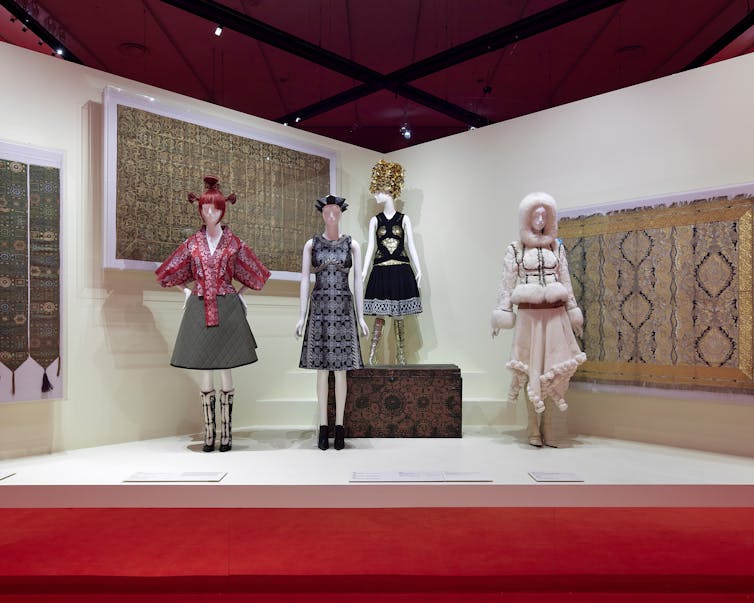 McQueen might, in this section, be accused of cultural appropriation, but this would be unfair.
Rather than appropriation, his fashion designs were about fantasy, and fantasy put to good ends, making things from gender to place to sexuality off centre or strange, so we are aware of the fragile accord we have between our identities and our appearances.
As Catherine Brickhill, the first designer employed by McQueen to work on his label notes in the catalogue, McQueen:
delved deep into the differences between our culture and other cultures. It wasn't cultural appropriation, but an openness to and curiosity to be explored and celebrated.
Other narratives in this section include the most controversial ones that swirled around McQueen, notably Highland Rape collection, in which McQueen suggested the appearance of Scottish widows during the Highland Wars in ripped and tattered clothes.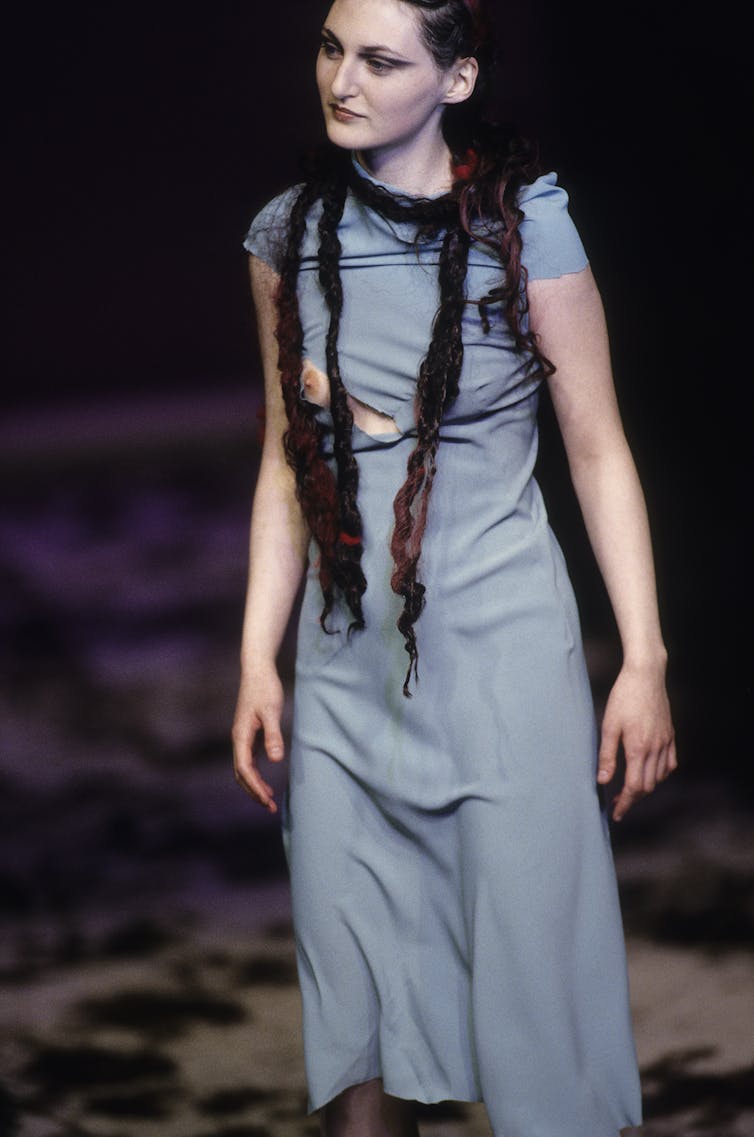 It would be as silly to accuse McQueen of misogyny here as it would to claim Elsa Schiaparelli hated women for dressing them in ripped dresses suggestive of assault or accident in the 1930s.
Instead, McQueen gives us clothes not just as theatre but as "choreographed deception", in which male and female elements come together to cancel the other out.
Beyond good
In an era of increasing specialisation, vocational training and narrow fields of research and investigation, this exhibit shows us how a great designer goes beyond good.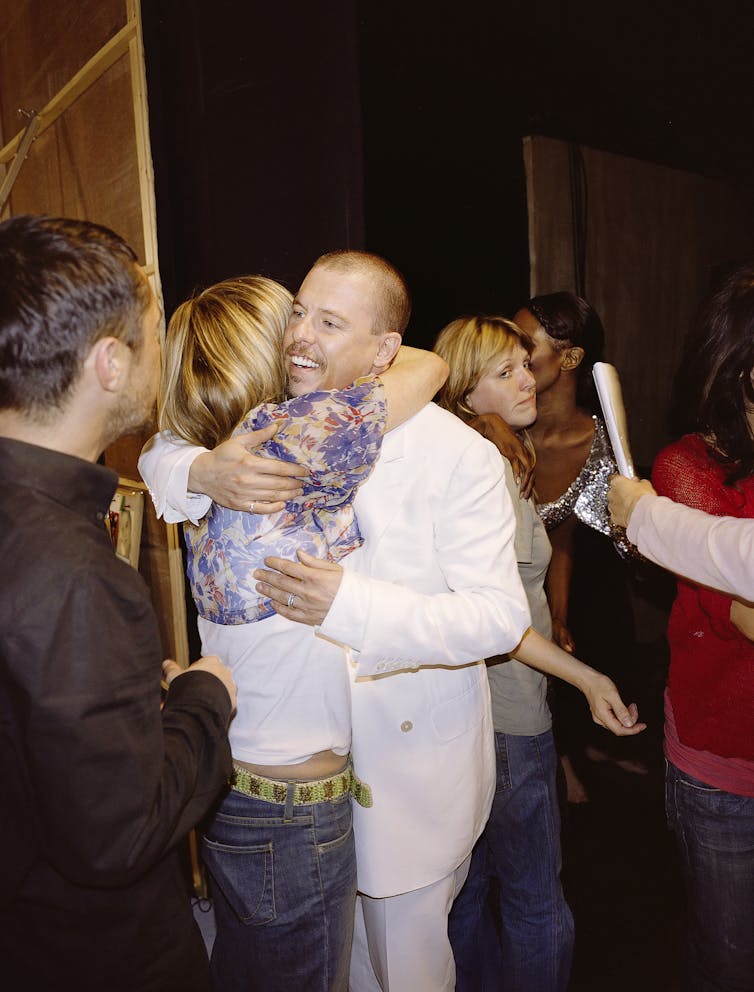 It shows us how his vision extended well beyond clothes to how they were imagined, and how women might imagine themselves, at all times.
When you wear trousers with a very low rear; slip on a digitally printed fabric or has allusions to nature – crystals, leaves, water; wear an asymmetrical outfit with slightly extended shoulders; don impossible shoes to your New Year's party; or put on an eyeshadow that makes you look like a hummingbird: McQueen was there first.
Alexander McQueen: Mind, Mythos, Muse is at NGV International, Melbourne, until April 16 2023.
---

Clothes women wanted to wear: a new exhibition explores how Carla Zampatti saw her designs as a tracker of feminism


---
WorldNewsIntel