The UK's equalities minister, Kemi Badenoch, has announced a review of the list of countries whose gender recognition certificates are recognised by the UK. This could mean that transgender people from more than 40 countries may not have their legal gender recognised by the UK government.
The move comes just weeks after Scotland became the first part of the UK to introduce a system of self-identification aimed at simplifying how a transgender person legally changes their gender. In this sense, the UK government's actions represent the latest stage of a long and often unpleasant debate over attempts to change the process of gender recognition.
At the end of 2022, following two historically large public consultations, the Scottish government passed the gender recognition reform (Scotland) bill.
Before this amendment, to apply for gender recognition under the UK-wide Gender Recognition Act 2004, a trans-identified person required a medical diagnosis of gender dysphoria. They were also required to complete a "two-year life test" – living in the desired gender for at least two years – before applying for a gender recognition certificate.
The newly approved bill in Scotland removes the need for medical evidence of dysphoria and reduces the "life test" time from two years to three months. This means that a trans person who wishes to have their gender identity legally recognised will no longer need a psychiatric diagnosis, nor must they fulfil a two-year life test as evidence of their commitment to the new gender.
If they are 18 years old and have effectively lived in their new gender for three months, they can apply for a gender recognition certificate without undergoing intrusive medical assessment. The process is longer if applicants are 16 or 17.
The original requisites are still in place in the rest of the UK, where plans to reform the Gender Recognition Act were abandoned in September 2020, when Liz Truss was equalities minister. But the UK government's recent announcement could also impact trans people in Scotland and overseas.
In an announcement, Badenoch said that it should not be possible for people to obtain UK legal gender recognition with certificates from countries whose process the government says aren't "equivalently rigorous" to the UK-wide system.
If Scotland is placed in this category then people with a gender recognition certificate issued there may find it is invalidated in the rest of the UK. Advocates for trans rights have also said that this could, in effect, create a "trans travel ban" for people whose countries are removed from the list.
Incendiary debate
The changes in Scotland are significant for trans people. They will arguably help combat the treatment of being trans as if it was a medical condition, and will diminish the distress of a process often described by applicants as demeaning, intrusive and traumatic.
In 2015, a Council of Europe report called for urgent and transparent processes to enable easy access to documents such as IDs and birth certificates. This propelled reforms in the Netherlands, Norway, Denmark, Portugal, Belgium, Sweden, Ireland and even Malta. There, new legislation frames self-identification as the "legal right to free development of the person" according to their gender identity.
However, the public debate leading up to the Scottish vote was incendiary. Protesters rallied against voting MSPs in the public gallery up until the last minute. Critics' main argument is that simplifying the process of gender identification can expose women-only services (such as shelters, health facilities, prisons or changing rooms) to predatory male behaviour, posing a real threat to women's safety.
Connected to this is a concern that a streamlined process will lead more people to simply have a go at switching gender without fully understanding the consequences of their decision. This would turn "trans" into a trend.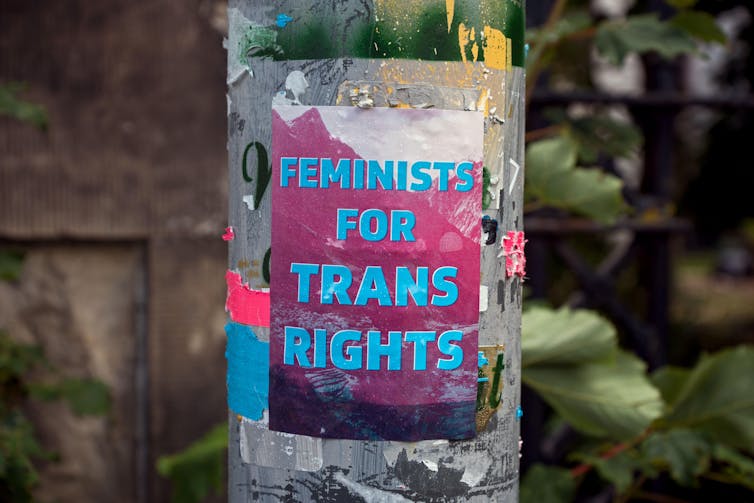 But this has not happened in the Republic of Ireland, where an almost identical system of self-declaration has been in effect since 2015. Annual reports published by the Irish Department of Social Protection from 2015 to 2021 only show a gradual and slow increase in self-identification cases, demonstrating that the system is far from being abused or used imprudently.
Similarly, it is important to note that a simplified system of gender recognition in no way mitigates consequences for inappropriate or illegal behaviour. The law around sexual harassment, abuse and other criminal acts remains unaltered. And under the Equality Act 2010, the reform does not erode the special status granted to spaces like women's health services or shelters.
A prolonged battle
Social and cultural awareness around transgender identity is growing. Trans stories are gaining more significance in the media, music, art and politics. It is significant that Labour leader Keir Starmer has vowed to resume the debate around the Gender Recognition Act 2004 and to support changes to law that would allow transgender people to self-identify, if he becomes prime minister.
Yet the current UK government has also suggested it could block the Scotland bill from receiving royal assent from the King. This would risk a constitutional conflict with the Scottish government.
By curtailing the rights of trans people in Scotland and other countries to have their gender recognised in the UK, the government is arguably prolonging what has become a toxic and harmful debate.
WorldNewsIntel