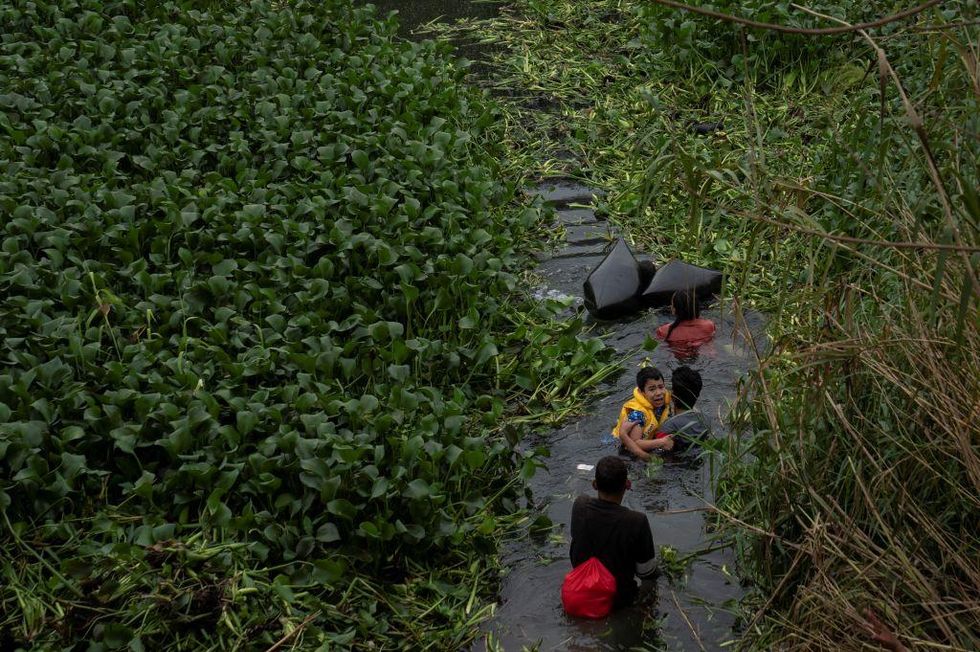 Most of us agree that the U.S. immigration system is in dire need of reform. But inflammatory rhetoric and policies designed to keep immigrants away won't get us there.
When I was in law school, I witnessed firsthand the difficulties faced by asylum seekers.
These desperate people had already endured terrifying conditions in their home countries and harrowing journeys to reach the U.S. border. Then they had to navigate a vastly complex immigration system that seemed bent on sending them away.
I've listened to asylum seekers in immigration jail speak about their fears of persecution if returned back to their home countries. I've accompanied them during their asylum interviews. And I've observed judges in immigration court hear nearly 100 cases in a single day.
Politicians and media pundits quickly reduce this mounting humanitarian crisis to "border security." That narrow focus puts real solutions out of reach — and imperils the universal right to seek refuge from danger.
Even President Biden, who promised to break from his hardline predecessor, has doubled down on the assault on immigrants. Faced with a surge of asylum seekers at the U.S.-Mexico border, the Biden administration expanded the use of Title 42 this January to restrict people from Cuba, Nicaragua, Haiti, and Venezuela from entering the United States.
Title 42 is a rarely used provision of U.S. health law first invoked by President Trump to prevent asylum seekers from applying for legal protection at the U.S.-Mexico border under the pretext of preventing COVID-19. Biden has continued using Title 42 to carry out thousands of expulsions each month, sending people back to countries where they face harm and humanitarian disaster.
We do need efforts to manage border migration efficiently, but not at the expense of fairness, humanity, and our own laws and values.
The administration has also announced an enhanced use of "expedited removal," which allows Border Patrol agents to quickly deport arriving migrants without adequate asylum screenings. Another proposed regulation would make people seeking asylum ineligible if they failed to seek protection in a third country before reaching the U.S.
Accompanying Biden's expanded expulsion policy is a new "parole" program that will bring temporary relief to Nicaraguans, Haitians, and Cubans, similar to one created for Venezuelans. This program will allow the entry of up to 30,000 individuals from the four countries each month as long as they have obtained financial sponsorship in the U.S. and satisfied other requirements.
These individuals will be permitted to remain in the U.S. for two years with work authorization. But those who attempt to seek asylum at the border will be expelled and ineligible for the parole program.
While helpful, this parole program offers limited legal pathways for just a tiny percentage of people. Its requirements impose major barriers to asylum seekers without access to resources, perpetuating inequities within the U.S. immigration system.
The right to seek asylum at our borders regardless of one's nationality is recognized under both international and U.S. law. Yet more than ever, that right is in danger. As political and economic conditions continue to deteriorate in Haiti, Venezuela, and throughout Central America, displacing ever more people, we need to fix this broken system.
We do need efforts to manage border migration efficiently, but not at the expense of fairness, humanity, and our own laws and values. In tandem, the root causes of forced migration must be confronted, which requires re-examining U.S. policies toward our neighbors in Latin America and the Caribbean.
We are a proud nation of immigrants with an immigration system that has not always lived up to America's highest ideals. Until Congress finally passes comprehensive immigration reform, President Biden must commit to respecting our asylum laws and do more to build an immigration system that fundamentally recognizes dignity and respect for all people.