In recent years, there has been growing evidence that the UK economy is in poor shape. While the latest economic figures suggest it performed better as the COVID pandemic receded than was previously reported, the performance of sectors such as manufacturing, construction and agriculture has been revised downwards, leading some experts to warn of a greater risk of a recession to come.
Alongside these economic challenges, the UK faces many societal issues – including rising levels of inequality, with the country's Gini coefficient projected to reach a record high of 40.8% in 2027-28. In 2022, the richest fifth of the UK population had an income more than 12 times that of the poorest fifth.
---
This article is run in partnership with HowTheLightGetsIn, the world's largest philosophy and music festival, which returns to Kenwood House in London on September 23-24. On Saturday 23, Louise Ashley will join Julia Davies, Gerry Mitchell and The Conversation's Mike Herd to discuss how to restructure society for the common good. See the festival's full line-up of speakers and get 20% off tickets here with code CONVO23.
---
Another factor that marks the UK out is the extent to which its economy is geographically unbalanced. The Financial Times's chief data reporter, John Burn-Murdoch, recently highlighted how the UK compares on per-capita economic performance once London is removed. The answer? Worse than Mississippi, the US's worst-performing state, because "removing London's output and headcount would shave 14% off British living standards".
Some commentators suggest these figures underline the importance of London – and in particular, its financial district – as the UK's most significant economic asset. According to the City of London Corporation, the financial and professional services sector as a whole contributed nearly £100bn in taxes in 2020, and £278bn in economic output in 2022. Many of these firms are located in the City, which the Corporation states "drives the UK economy, generating over £85bn in economic output annually".
An alternative perspective is that these contributions should be balanced against what the City takes out of the wider UK economy. One argument is that the City has been at the forefront of the financialisation of the UK economy, whereby most investment is channelled into assets such as property, infrastructure and financial assets, rather than supporting more productive investment in new businesses and small firms.
Certainly, the City of London is heavily implicated in the UK's widening inequalities of income and wealth, both through its daily business activities and its remuneration practices. In 2022, the Institute for Fiscal Studies warned that the biggest boom in City bonuses since the 2008 financial crisis would further increase this inequality gap.
The City's diversity smokescreen
This is a complex picture, but few disagree that developing a more equitable UK economy and society requires significant structural change. Politically, this has been recognised from most sides amid often heated debates about the new levelling-up bill.
However, to the extent that the City of London has responded to its role in the UK inequalities, the dominant focus has been on who its elite firms recruit and promote, rather than its wider impact.
My book, Highly Discriminating, and the related Conversation long read offered evidence that while the City's recent focus on diversity and inclusion can be life-changing for a few individuals, to date it has still largely maintained the traditional white, male and privately educated status quo at the top.
Most worryingly, I concluded that such programmes can be used as a smokescreen, giving elite firms a certain legitimacy that distracts from demands for a more open debate about the City's wider responsibility in driving up geographical and related inequalities.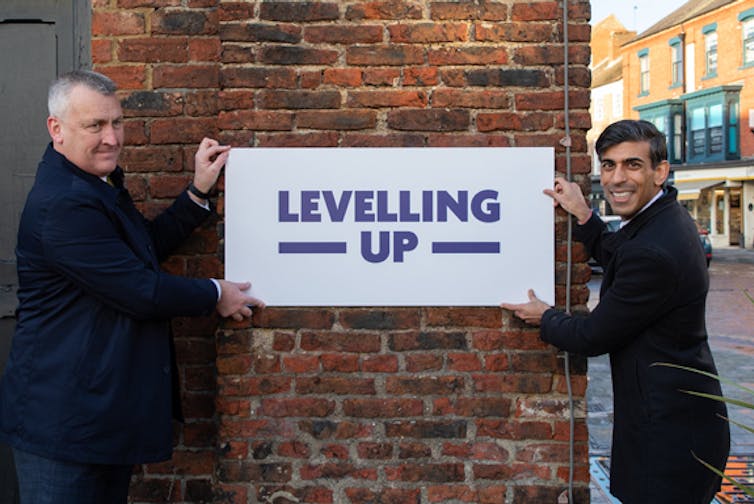 On numerous occasions (both privately and in public), I have been criticised by City leaders for raising this, on the grounds that it is not only impolite but demoralising for people engaged in diversity and inclusion work, and risks setting that agenda back. I believe such defensiveness highlights how financial and professional leaders protect their privileged position – by policing the boundaries of what is "acceptable" to say about the inequalities to which their firms contribute.
Many City bosses operate within an echo chamber that suggests to them there is more consensus around the City's positive contribution to UK society than is actually the case. Their power and influence insulates them from criticism and challenge. When it does come, their defensive reaction is stifling a much-needed, nuanced public debate around how to tackle the inequalities that blight so many people's lives.
---


Read more:
Class and the City of London: my decade of research shows why elitism is endemic and top firms don't really care


---
Changing the national conversation
Over the past decade, I have conducted hundreds of interviews with City of London workers at all levels, many of whom are strongly committed to a more equitable economic and social system. I believe they are well placed to help change the national conversation, by asking more of their leaders on this front.
Within many corporate organisations, the issue of inequality is positioned as part of corporate sustainability agendas, or the currently more fashionable "environmental, social and governance". Yet like diversity and inclusion, as this agenda is implemented within a model that prioritises profit maximisation over economic justice, it may have a similarly cosmetic effect. More meaningful improvements would require business leaders to engage more closely with how we can build a more egalitarian economic system that allows for shared prosperity.
The momentum to help drive these and many other changes requires a majority of the population on board. But this is more likely if business leaders are brave enough to acknowledge the UK's key structural problems while opening up their related operations to wider scrutiny and debate.
In June, Julia Davies, a founding member of Patriotic Millionaires UK, warned delegates at an international investment conference in London of a "real risk of actual insurrection" and "civil disruption" if the inequality gap between rich and poor is allowed to widen. There has long been clear evidence that inequalities are ultimately bad for everyone in a society.
Yet consciously or otherwise, many City leaders still impose tight limits on what is considered reasonable to say about the inequalities their organisations help to create. Perhaps we should take note of the University of Bristol's Kirsty Sedgeman, who has suggested that in pursuit of social justice, more of us need to become "reasonably unreasonable", to encourage our business and political leaders to think and act differently, and widen the conversation about the UK's growing inequality gap.
London and its financial and professional services powerhouse are at the heart of the UK's failing attempts to level up. We need its leaders to play a central role in our national debate about how to address this problem. This is no time for denial and distraction.
HowTheLightGetsIn's theme for London 2023 is Dangers, Desire and Destiny. HowTheLightGetsIn covers everything from politics, science, philosophy and the arts and attracts a host of speakers including Nobel Laureates, Pulitzer prize-winners, political activists and world leading thinkers.
Alongside the Conversation's curated event The Common Good, expect to see Alastair Campbell, Rory Stewart, Ruby Wax, Michio Kaku, David Baddiel, Carol Gilligan, Martin Wolf and more lock horns over a packed weekend of debates, talks and performances. Explore the full programme here and don't miss out on 20% off tickets here using code CONVO23.