The Victoria and Albert Museum in London has announced the opening of a new David Bowie Centre for the Performing Arts in 2025 at V&A East Storehouse in east London. This follows the news that the museum has acquired – through donation – the artist's fabled archive.
This collection of over 80,000 objects formed the basis of the museum's 2013 exhibition David Bowie Is. It includes personal correspondence, lyric sheets, photographs, costumes, set designs, music awards, films, album artwork, instruments and plans for unrealised projects.
The show's curators, Victoria Broackes and Geoffrey Marsh, described it as "one of the most, if not the most, complete archive of any pop music artist" of all time,
In 2020, I was commissioned to edit The Cambridge Companion to David Bowie, having long researched the artist's (often ghostly) presence in both contemporary theatre and recent cinema.
Here are my top five Bowie treasures, with a playlist that sounds out his playful curiosity about how we occupy our bodies and genders, his tender sense of our need for beauty and his passionate respect for style.
1. Jockstrap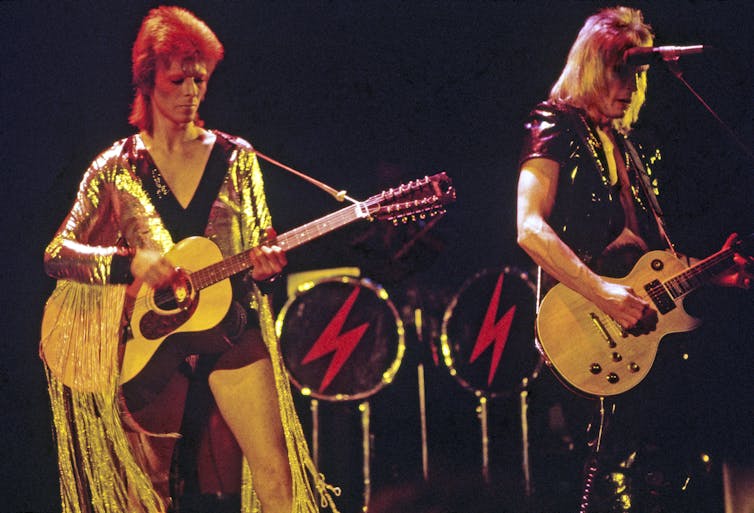 During the 1973 Ziggy Stardust tour, Masayoshi Sukita photographed a near-naked Bowie performing before a joyously crazed Japanese crowd, wearing only a jockstrap.
This piece of athletic kit, so evocative of sport's homosocial energies and of working-class culture, creates an irreverent tension with the androgyny and strangeness of the costumes fashion designer Kansai Yamamoto created for that same tour.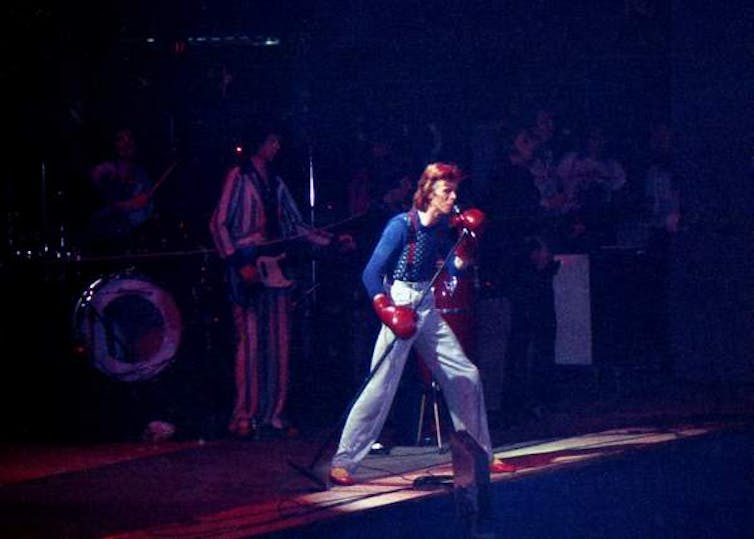 Bowie was at his most gloriously queer when trafficking in images of iconic, traditional (and intensely vulnerable) masculinity. Other notable accessories include the red boxing gloves he wore during live performances of his 1973 track Panic in Detroit and the darker gloves he sports on the cover of 1983's Let's Dance.
2. The 1973 Hammersmith Odeon dressing table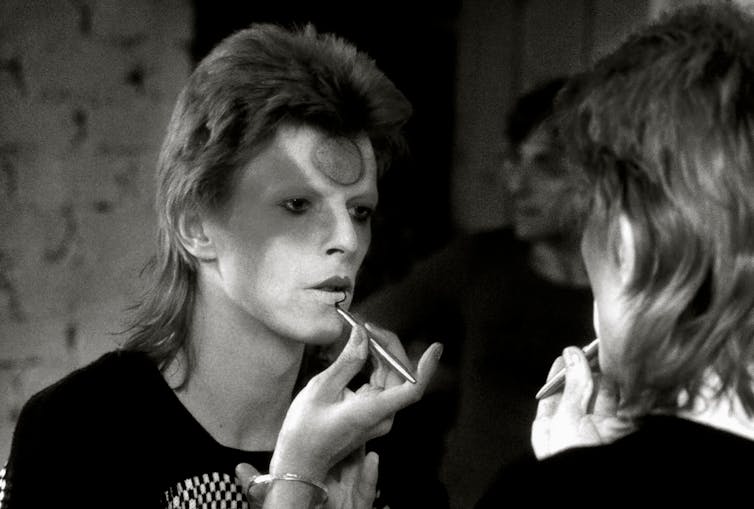 In Ziggy Stardust: The Motion Picture, the 1973 Donn Alan Pennebaker documentary about Bowie's final Ziggy gig, we see the artist preparing for the stage. As he sits in front of a mirrored dressing table, his makeup artist applies rouge, eyeshadow and eyeliner, transforming him from a pallid young man into a feminine icon.
I'd like the new centre to recreate the dressing table: the two bottles of wine (one opened), the white plastic cups, the boxes of tissues, the large tin of hairspray, the container of Johnson & Johnson baby powder, the well-used green ashtray.
This gentle display of the mundane paraphernalia of 1970s femininity speaks to Bowie's lifelong preoccupation with what English literature expert Shelton Walderp terms an "aesthetics of self-invention", stretching from Bowie back to Oscar Wilde, and beyond to Shakespeare and Japanese Kabuki theatre.
3. Bowie's copy of George Orwell's 1984 – and other books
One installation in the 2013 V&A show featured a faceless mannequin with outstretched arms, high, high up in the space. It was draped in a cloak designed by Yamamoto in 1973, a white floor-length garment, made in the Japanese hikinuki tradition and designed to be ripped off in a speedy onstage costume change. It is covered in red and black kanji which translate as "one who spits out words in a fiery manner".
Suspended around it in the V&A, like so many birds in flight, were 20-odd books from Bowie's personal library by authors including RD Laing, Vladimir Nabokov and Hubert Selby Jr.
I'd love to see Bowie's copy of George Orwell's 1984 feature – a novel I read, aged 12, after I had heard Bowie was writing a musical based on it. Also, anything he owned by French writer Jean Genet, whose name inspired the title of the 1972 single, The Jean Genie, and whose final book, Prisoner of Love (1986) inspired the eponymous song Bowie recorded with Tin Machine in 1989.
4. The Hedi Slimane three piece suit – and other blue suits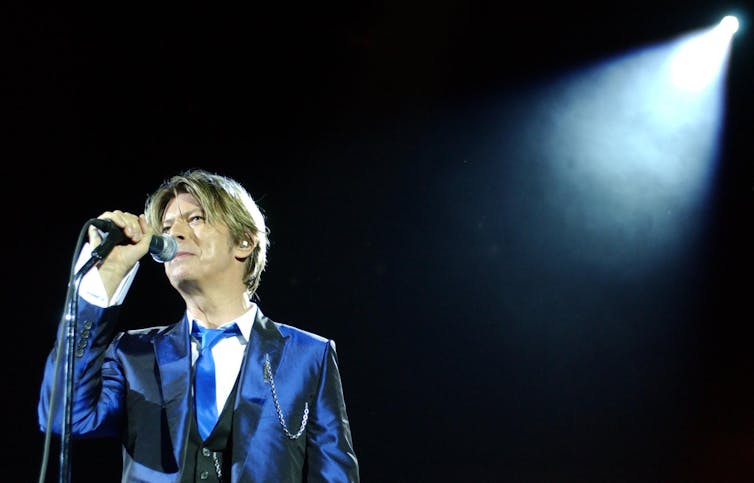 On 1977's Sound and Vision, Bowie famously sang:
Blue, blue, electric blue
That's the colour of my room
This sentiment chimes with the filmmaker, Derek Jarman's own take on the colour (in Chroma: A Book of Colour):
Blue, an open door to the soul
An infinite possibility
Becoming tangible
Bowie greatly admired Jarman, an extract of whose film, Blue, was played during the pre-show music for the 1995 Outside tour. Like Jarman, Bowie loved the colour blue, maybe, in part, because he knew how good he looked in it.
Like he did in the turquoise suit Freddi Burretti designed for his 1973 Life on Mars? video, whose vivid hue echoed Bowie's eye make-up; or the powder-blue suit designed by Peter Hall that featured regularly on the 1983 Serious Moonlight tour; and the gorgeous petrol-blue three-piece, designed by Hedi Slimane, that he wore on his 2002 Heathen tour.
5. The white Supro guitar – and other instruments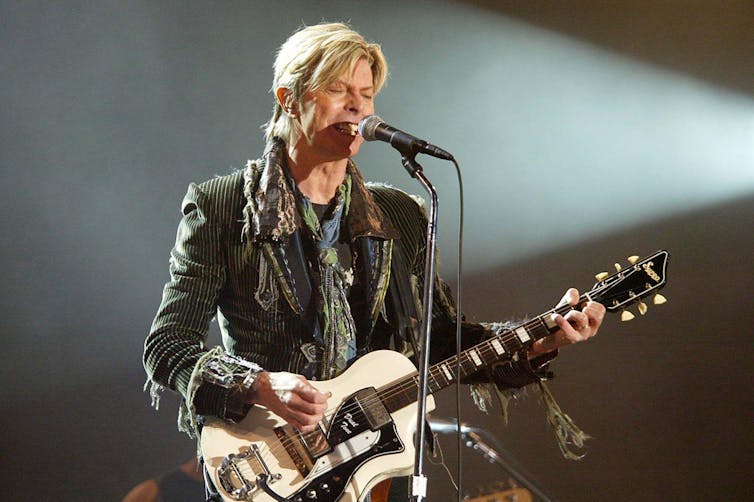 One of the most compelling photographs in the David Bowie Is catalogue is of the white Supro 1961 Dual Tone electric guitar that Bowie played on his final tour, in support of the 2003 Reality album. The image remains emblematic of Bowie's dogged commitment to the possibilities, and actual making of music.
Other instruments of note would include the 12-string acoustic guitar he turned to throughout his career; the Japanese koto he plays on the 1977 track Moss Garden; the saxophone he had played since he was a teenager; and the harmonicas that followed him from 1969's song Unwashed and Somewhat Slightly Dazed to 2016's I Can't Give Everything Away, the final track on Blackstar, his final album.