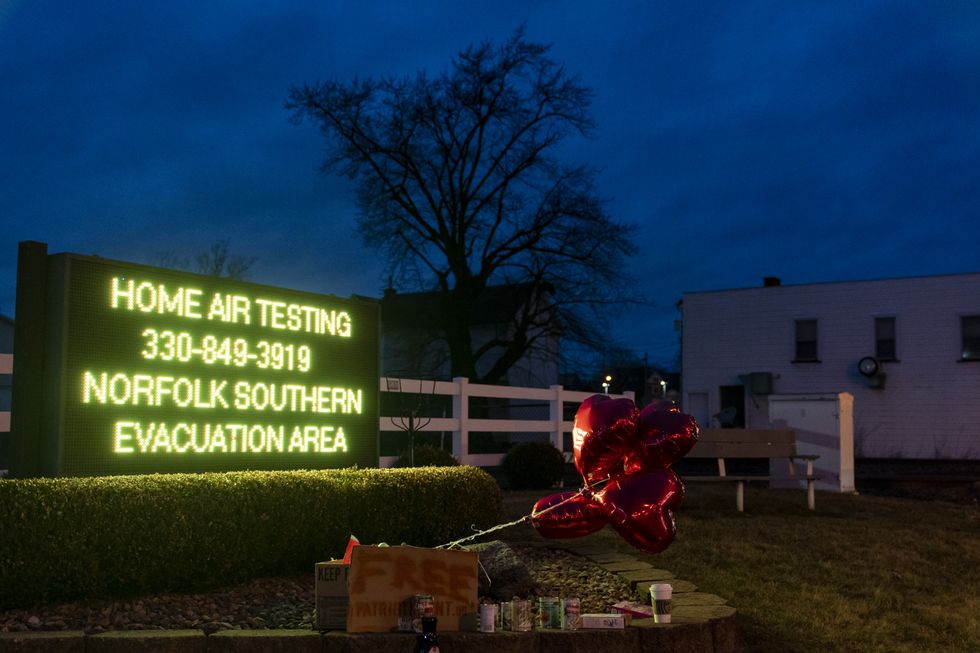 Sen. Bernie Sanders on Thursday connected the spate of recent train derailments in the United States to Wall Street-backed cost-cutting and other policy decisions that have decimated the rail industry's workforce and compromised safety for the sake of larger profits.
"When rail companies reduced their workforce by 30% under orders from Wall Street, bad things happen—like the dangerous derailments in Ohio and Michigan," Sanders (I-Vt.), the chair of the Senate Health, Education, Labor, and Pensions Committee, wrote on social media. "Rail companies not only must provide seven days of paid sick leave to workers, they must stop skimping on safety measures."
The toxic crash in East Palestine, Ohio has drawn greater scrutiny to a widely adopted model known as Precision Scheduled Railroading (PSR), which rail workers have said is at least partially to blame for the derailment and broader crises across the industry. Under PSR, The New York Times explains, rail companies focus on "running rigid, consistent schedules, streamlining processes and routes, and cutting back on equipment and employees."
According to the U.S. Surface Transportation Board, Class I railroads—including Norfolk Southern, the company at the center of the derailments in Ohio and Michigan—have collectively slashed their workforces by 29% over the past six years, terminating roughly 45,000 employees including safety personnel.
An analysis conducted by USA Today earlier this month found that while "catastrophic events involving trains and chemicals may be uncommon, [hazardous material] cargo violations caught during inspections of rail shippers and operators appear to be climbing."
"Over the last five years, federal inspectors have flagged 36% more hazmat violations compared with the five years prior—and fines for those are up 16%.," the outlet noted.
One Norfolk Southern employee told Motherboard this week that train derailments and other rail disasters are "going to keep happening if regulators continue to allow this business model to ravage our nation's freight rail system in the pursuit of profit."
"My fear is that these corporations have so much money and political influence that nothing is going to change," the worker added.
"Secretary Pete Buttigieg must heed rail workers' calls and implement common-sense regulations to ensure this never happens again."
In addition to fighting to deny their increasingly exhausted workers paid sick leave, Norfolk Southern and other hugely profitable Class I rail carriers have lobbied aggressively against regulatory changes aimed at enhancing industry safety practices.
The Norfolk Southern train cars that derailed in East Palestine were not being regulated as hazardous, despite carrying a known carcinogen that was later released into the air.
"After rail industry donors delivered more than $6 million to GOP campaigns, the Trump administration—backed by rail lobbyists and Senate Republicans—rescinded part of [a] rule aimed at making better braking systems widespread on the nation's rails," The Leverreported earlier this month. "Specifically, regulators killed provisions requiring rail cars carrying hazardous flammable materials to be equipped with electronic braking systems to stop trains more quickly than conventional air brakes."
In the wake of the East Palestine derailment, progressive lawmakers have ramped up pressure on U.S. Transportation Secretary Pete Buttigieg to take steps to more strictly regulate railroads as he suggests— incorrectly—that federal law is preventing him from doing so.
"The train derailment in East Palestine is an ecological and humanitarian disaster caused by a predatory rail industry that constantly puts profit over people," Rep. Cori Bush (D-Mo.)
said on Thursday. "Secretary Pete Buttigieg must heed rail workers' calls and implement common-sense regulations to ensure this never happens again."