"Oldest", "rarest", "most celebrated" … these adjectives are intentionally avoided in the major new exhibition, Tartan, at the V&A Dundee. It is ironic, therefore, that myself and the other curators have chosen to display the earliest authenticated fragment of tartan found in Scotland – an item which could be described using all three adjectives.
Following radiocarbon dating and extensive dye analysis, the Glen Affric tartan – first discovered in a peat bog in the 1980s – has been dated to between 1500 and 1600. Naturally occurring green, brown, red and yellow dyes have been detected in the textile fragment, which is woven in the characteristic pattern (or "sett", as the individual pattern of a tartan is officially known).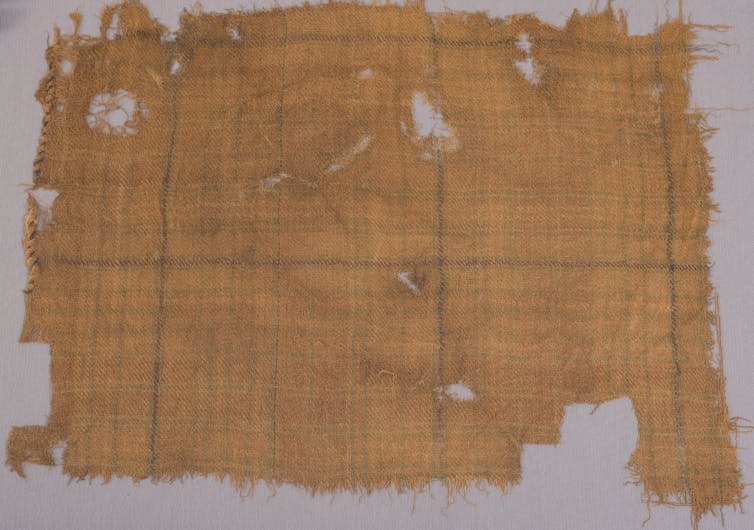 This discovery revises previous scholarship which suggested that the Falkirk tartan (dating back to the third century CE) was the earliest example of "true tartan". In fact, this older fragment is actually a simple two-colour checked weave – or "shepherd's plaid" – unlike the multicoloured true tartan pattern of the Glen Affric.
As important as this discovery is, the Glen Affric fragment is displayed not as an origin story but as part of the exhibition's opening theme of tartan as a universal and inspirational grid pattern. The fragment shares this space with examples of fine art, including a series of tartan-inspired prints by American minimalist (and tartan obsessive) Donald Judd.
There are examples of 1960s ecclesiastical architecture by Dutch Benedictine monk Hans van der Laan, based on the Grey Douglas tartan pattern.
Contemporary fashion that deconstructs and reassembles the fundamental structure of tartan is also on display, as are examples of global indigenous checked textiles. This includes Shuka cloth from west Africa and Bhutanese fabric that shares a visual affinity with Scottish tartan.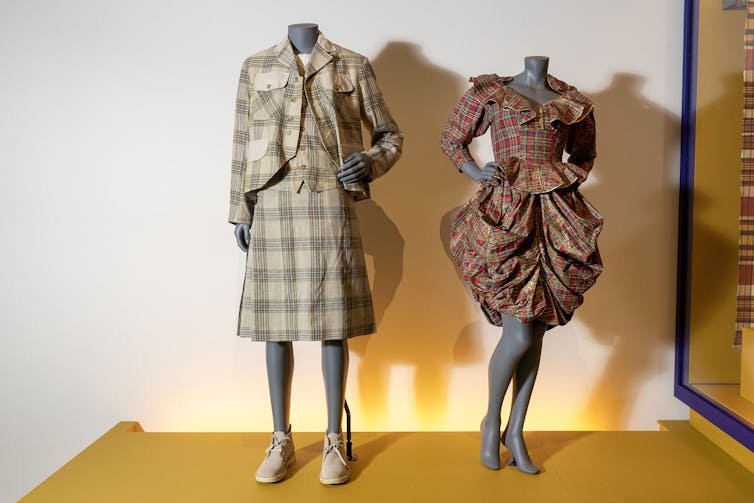 Visitors are encouraged to understand tartan in four interlinked spaces: Innovating Tartan, Tartan and Identity, Tartan and Power, and Transcendental Tartan. Historical and contemporary, unique and everyday, familiar and unexpected juxtapositions are all used to interrogate established histories of tartan and illuminate some of its lesser known stories.
Moments of rupture and discontinuity
We rejected a chronological narrative for this exhibition because of tartan's unique history, which is complex, multilayered, and full of moments of rupture and discontinuity.
Possibly the most significant of these ruptures occurred following the final defeat of the Jacobite cause at the Battle of Culloden. It was then that tartan (as part of Highland dress) was outlawed under the Disarming Act of 1746.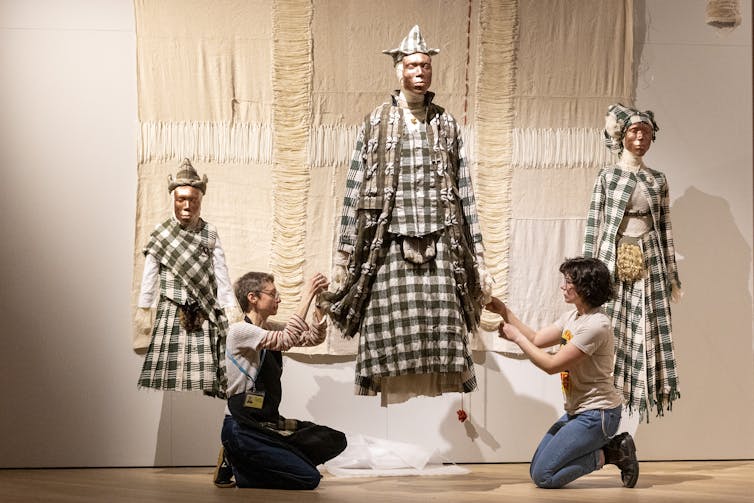 This act sought to stamp out Scottish opposition to British rule. Wearing Highland dress – including tartan – was considered an expression of anti-government feeling, even of rebellion.
While there were many exceptions to the rule (including women, children, the Highland regiments and the landed elite), a textile being perceived as a source of insurrection is just one of many factors that makes tartan unique. So, rather than display the Disarming Act document within a linear storytelling of tartan's development in the 18th century, we have displayed it within the broader concept of Tartan and Power.
Tartan and the establishment
Adjacent to this document is a pair of tartan bondage trousers, showcasing the pattern's potential for confrontation and its symbolism in punk's anti-establishmentism.
This display is, in turn, next to a screening of a scene from the National Theatre of Scotland's celebrated production, Black Watch (2006). In this sequence, a soldier of the Black Watch regiment serving in Iraq is repeatedly dressed and undressed in successive variants of the regimental tartan uniform. Here, tartan is used to represent a choreographed collapsing of military history.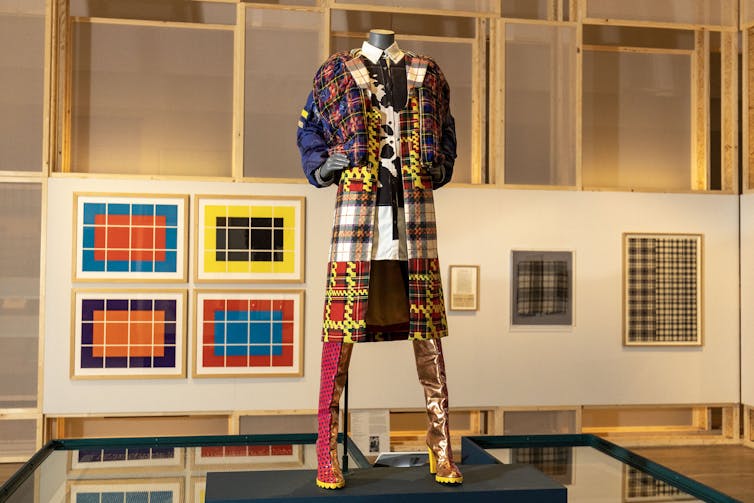 Within eyesight of this is the work of artist Michael Sanders, who uses the Polaris tartan, developed for the American submarine base in Holy Loch Scotland, to question colonisation and the nuclear contamination of UK waters.
Finally, there is a trio of Alexander McQueen tartan garments on show. This includes a dress from his seminal Widows of Culloden collection of 2006/2007. That collection catapulted tartan into the 21st century, reclaiming its potential for resistance and revolt.
The long shadows of chronology and hierarchy that usually fall across such design exhibitions are dispelled here. Instead, our exhibition directs visitors away from beginnings, "firsts" and fixed origin stories, and towards new possibilities.
Tartan is on at the V&A Dundee until January 14, 2024.